So. Enameled cast iron vs stainless steel cookware: Which is the better choice? Both are top-of-the-line cookware materials. But they have different strengths and weaknesses and excel at different culinary techniques.
Enameled cast iron enhances the flavor of any dish beautifully, as it excels at slow cooking, roasting, stewing, braising, and baking. It locks in the moisture for a succulent baked chicken or produces a perfectly risen sourdough.
Stainless steel cookware excels in all other areas: searing, sautéing, frying, boiling, steaming and simmering. Stainless steel can do everything from sealing a sirloin to making a pasta dish that would make an Italian chef proud. (It can both handle acidic tomato sauce and boil the pasta!)
What is Enameled Cast Iron Cookware?
Enameled cast iron cookware is natural cast iron cookware coated with a porcelain enamel layer, making it non-reactive and semi-nonstick.
The fusion of the glaze with the cast iron means it doesn't transfer iron to your food the way traditional cast iron does. You don't need to season it like you would regular cast iron, although the enamel does absorb oils from food cooked in it, so it takes on a natural seasoning with everyday use. The enamel coating also means it won't rust like traditional cast iron can, so there is less maintenance.
It's a stunning addition to any kitchen, available in every beautiful bright color of the rainbow. Perfect for cooking those big pots of chili or simmering a stew on a cold day.
Because it holds and distributes heat so well, the most common items made with enamel cast iron are dutch ovens, casserole dishes, and skillets.
What is Stainless Steel Cookware?
Stainless steel cookware is made from a steel alloy that typically includes iron, chromium, and nickel. Stainless steel cookware is never pure steel, but it has either a core layer or base layer of another metal – aluminum or copper – that conducts heat better. It is lighter weight than ceramic-coated cast iron but is just as durable – and less brittle.
Although stainless steel is not naturally nonstick, it is easy to make nearly nonstick by seasoning your pan. And although it doesn't come in a rainbow of colors, the shiny silver is a classic that will match any kitchen.
Stainless steel cookware is incredibly versatile and durable. It can be used for all cooking techniques, from frying a fabulous crispy skinned salmon filet to finishing a frittata by broiling it in the oven. You can buy complete cookware sets of pots and pans or a solo little egg pan.
It's available in high end 3-ply and 5-ply clad cookware, and there are fantastic budget stainless steel cookware sets available as well.
Stainless Steel vs Enameled Cast Iron Cookware – A Comparison
| | Stainless Steel | Enameled Cast Iron |
| --- | --- | --- |
| Materials: | Stainless steel with aluminum core | Cast iron with enamel coating |
| Longevity: | Lifetime | Lifetime |
| Price range (12" fry pan): | $30 – $225 | $44 – $250 |
| Uses: | Frying, sautéing, searing, broiling, boiling, steaming, simmering | Braising, stewing, slow cooking, roasting, baking |
| Most common cookware: | Wide range of sizes in fry pans, saucepans, stock pots, skillets, steamers, sauté pans | Dutch ovens, casserole dishes, skillets |
| Broiler safe: | Yes | Yes |
| Oven safe: | Yes | Yes |
| Dishwasher safe: | Yes | Recommended hand wash to preserve the enamel coating |
| Metal Utensil safe: | Yes | Not recommended or may chip |
| Induction compatible: | Yes | Yes |
| Weight (12" fry pan): | 2 – 5 lbs | 4.5 – 13 lbs (with lid) |
How to Use Enameled Cast Iron Pots and Pans
The thing I love most about enameled cast iron is that the enamel coating seals in liquids, enhancing the flavor of a dish little more than traditional cast iron. That means it seals flavor in beautifully for a perfect savory sensation.
What to cook in enameled cast iron
Slow-cooked anything is a dream in enameled cast iron. This is where it really excels over stainless steel. Big pots of buttery 3-bean chili or a hearty chili con carne are crowd-pleasers for a big game day weekend with friends. Come wintertime, I dare anyone not to salivate when they smell a mouth-watering pot roast that has been simmering away for hours. Only slow cooking produces melt-in-your-mouth corned beef, and it tastes even better in enameled cast iron.
Soups, stews, casseroles, chili, and curries cook to perfection in an enameled cast iron casserole dish. For something a little larger like your Sunday roast chicken, or a restaurant-quality leg of lamb or rack of ribs, an 8qt enameled cast iron Dutch oven is what you want. The lid seals moisture in so poultry and larger cuts of meat won't dry out.
Let's not forget household everyday staples. An enameled cast iron dutch oven will cook the most perfect loaf of crusty sourdough bread that rivals any bakery.
How To Wash Enamel Cast Iron
Enameled cast iron is extremely easy to clean. My friend, who's been cooking with hers for over a decade, says it's "my favorite kitchen cooking item because it will last forever and cleans up like a dream."
Just wash it with warm, soapy water once the pan has cooled. Then, thoroughly dry before putting the lid on and storing. If you have a frying pan (no lid), then place a pan protector inside before you stack it, so other pots and pans don't scratch or chip the enamel. Looked after and stored properly like this, it will last a lifetime.
Is enamel cast iron dishwasher safe?
Technically, yes, but the extremely high temperatures of dishwashers can damage the enamel, so it's recommended to hand wash these pricey pans.
All About Stainless Steel Pans
Not all stainless steel cookware is created equal. There are two main kinds of stainless steel cookware. These are cladded (ply) and bonded. There are two main core materials – aluminum and copper. There are also two main quality grades – 18/8 (lower) and 18/10 (higher). So you need to know what to look for when shopping for stainless steel cookware if you want it to last for decades.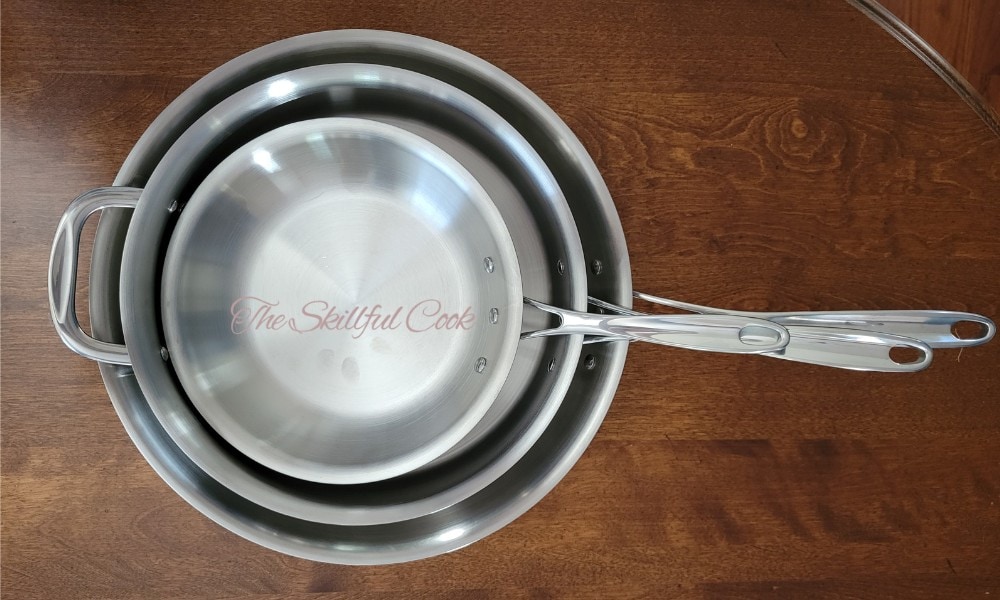 What to cook in a stainless steel pan
Just about everything can be cooked in stainless steel cookware. It heats evenly, making it perfect for cooking things on medium to low heat – like melting caramel for dipping apples in the fall.
Unlike enameled cast iron, it can also handle bursts of high heat – like flash frying or searing a steak before popping it in the oven to finish. Just make sure to invest in a high quality 3-ply pan to avoid warping, or bring your pan up to temperature slowly.
Sautéing seafood, stir-frying veggies, steaming sticky buns, and dumplings: there's not much stainless steel cookware can't do. Flapjack Friday and Taco Tuesday are greenlit with stainless steel. It's great for fluffy scrambled eggs on a Sunday morning or boiling pasta on a weeknight. Stainless steel's durability and versatility are the reason it's the workhorse of most professional kitchens worldwide.
How to Clean Stainless Steel Pans
Stainless steel cookware only needs a wash with warm, soapy water. For discoloration (heat tint or rainbow discoloration) or burnt stainless steel (burnt-on foods) then mix equal parts white vinegar and water and let that simmer until the food lifts with a wooden or plastic scraper.
How to Care For Stainless Steel Pans
Cared for correctly, stainless steel cookware can last a lifetime. Always thoroughly dry stainless steel before storing it. This prevents any chance of corrosion starting in small scratches or around handle attachments. Place a pan protector in between pieces when stacking to prevent scratching.
Related: How to Clean Stainless Steel Pans
Is Stainless Steel or Enameled Cast Iron Healthier to Cook With?
I've been cooking with my stainless steel for 40-ish years. I believe it is truly one of the safest cookware options. When stainless steel is brand new, there may be a small chance of some chromium or nickel leaching into your food from this cookware, especially if you use it for cooking acidic foods like tomatoes. However, the level of metal leaching is well below what the FDA has determined safe for those without nickel allergies.
Enameled cast iron cookware sourced from reputable brands is also considered quite safe. The enamel seals the iron and prevents any iron from leaching into your food. Top brands like Le Creuset, Lodge, and Staub are worth the investment as cheaper brands may chip. Some users have concerns about trace levels heavy metals like lead and cadmium that have been found in the glazes of some porcliean enameled pans. We address those concerns in our article on non-toxic enameled cast iron pans.
Which is Easier to Care For – Enameled Cast Iron or Stainless Steel Pans?
Enameled cast iron is a breeze to clean, and, as long as it doesn't chip, will stay that way for life. Stainless steel cookware (if not used properly) is harder to clean. Burnt oil residues and stuck-on food can leave you scrubbing. But stainless steel won't chip, peel, or crack, making it more durable for day-to-day kitchen life. Neither of these cookware materials need seasoning and maintenance the way that carbon steel or cast iron does.
Is Stainless Steel or Enameled Cast Iron Easier to Cook On?
Neither of these cookware materials are fully nonstick, but there's more of a learning curve to stainless steel. Proteins stick harder to stainless steel than any other cookware if you don't use it correctly. Enameled cast iron is more susceptible to thermal shock if the temperature changes too quickly – such as if you take a pot out of the fridge and put it into a hot oven.
Which is Better for Skillets?
Stainless steel skillets excel in stovetop cooking. They are compatible with all stovetops, including (usually) induction, and are oven-safe up to around 500-600°F. I recommend the All-Clad D3 10" skillet, as its 600°F oven-safe capability means more versatility in the kitchen.
Enameled cast iron is often used in the oven, but you can use it on stovetops as well. Bear in mind that enamel cast iron is very heavy, takes longer to heat up, and could scratch or break a glass top stove. It's not as safe for high heat as stainless steel. I'd recommend Le Creuset's 10" Pan for stovetop use.
Conclusion
The enameled cast iron vs stainless steel cookware showdown arrives at a tie, both in my heart and in my kitchen. I love them both. They are both excellent cookware choices that complement each other to meet all your cooking needs. For slow cooking or big pots of soups, dahls, chili's or stew, I reach for the enameled cast iron. For mainly stovetop cooking, frying, searing, sautéing, boiling and steaming, I reach for the stainless steel cookware.
If you have any questions, queries or quirky tales with your cookware, we'd love to hear them! Pop a comment below and we'll get back to you as soon as we're finished cooking.
We are sorry that this post was not useful for you!
Let us improve this post!
Tell us how we can improve this post?