If you're in the market for some stainless steel cookware, you can easily get lost in the sea of product options. The difference between 3-ply and 5-ply stainless steel cookware is one of the nuances that can make things complicated. If you've never cooked in 5-ply stainless steel before, you may wonder if it offers better cooking performance than 3-ply.
In this blog post, we'll try to answer all your questions about these two stainless steel types and explore their pros and cons.
What's the Difference Between 3-ply and 5-ply Pans?
3-ply stainless steel pans consist of three layers of metal: an aluminum or copper core wrapped between two layers of stainless steel. This whole bonded layered sheet of metal is formed into the cooking vessel.
5-ply stainless steel has five metal layers. In most cases, the copper or aluminum core is wrapped between two aluminum sheets, which are sandwiched between stainless steel layers.
What is Cladded or Ply Stainless Steel Cookware?
Ply steel cookware is made of layers of metal bonded together. The stainless steel can be different grades – often 18/10 on the inside and 18/0 on the outer layer. The core layers are usually aluminum or copper. These interior layers compensate for stainless steel's biggest flaw when it's used in cookware: poor thermal conductivity.
Although stainless steel is durable, safe, and lightweight, it doesn't conduct heat well. So, cookware made of pure stainless steel can never transfer heat effectively. Aluminum and copper are added to stainless steel to make it heat conductive – in other words, to make it work at all as cookware!
This solution is also effective in overcoming the weaknesses of copper and aluminum. These metals aren't as durable as stainless steel. Aluminum is soft and reacts with acidic foods, leaching metals into your meal. Copper is more durable and more heat-conductive than aluminum, but it's still reactive and can leach into your food. (That's why pure copper cookware is lined with non-reactive metals, usually stainless steel and tin.)
3-ply or 5-ply stainless steel cookware – also known as fully clad cookware – gives you the best of both worlds. It has the high durability of stainless steel on the outside layers and the superior heat conductivity of aluminum or copper inside. Some cookware has ferritic stainless steel on the exterior layer to become induction-compatible.
Clad vs. Impact Bonded Cookware
As mentioned, pure stainless steel cookware doesn't exist because it can't conduct heat well. However, full cladding isn't the only solution to this issue. There's a cheaper alternative that doesn't use these layers on all sides of the pots and pans.
Instead of 3 or 5-ply construction, some pots and pans have a plate of heavy-gauge aluminum set into the cookware's base, enabling the bottom to transfer heat. However, the cookware's side walls have poor conductivity, since there's no aluminum in the walls. This design is called impact-bonded cookware.
The fully clad design may not be necessary for flat skillets, but it produces more even cooking, especially for soups and stews cooked in taller pots. Fully clad – that is, 3 or 5-ply pans – also last longer, since the aluminum plate may detach from impact bonded pans.
3-ply vs. 5-ply Construction – And Marketing Claims
As the name suggests, 3-ply cookware has three metal layers, while 5-ply consists of five metal sheets. 3-ply cookware has an aluminum or copper layer sandwiched between exterior and interior stainless steel sheets.
However, there's a marketing claim that you should be aware of when in the market for clad stainless steel cookware.
The famous American brand All-Clad is the inventor of 3-ply stainless steel. They bond the core aluminum sheet to the stainless steel layers with two very thin layers of aluminum. This means there are technically 5 layers used in the famous All Clad D3 cookware.
Other manufacturers, including Calphalon, Made In, and Misen, market their 3-ply cookware as 5-ply. They count the thin and cheap aluminum layers used to bond the main layers as the fourth and fifth plies.
So, very few products are truly 5-ply. All-Clad's D5 series is one rare example, and consists of
The takeaway here is that the number of plies in stainless steel cookware should not be your primary criteria for evaluating its quality. Check other things like thickness or metal grade to find the best cookware for your needs.
Performance of 3-ply vs. 5-ply Pans
So, now that we've cleared up the difference between 3-ply and 5-ply stainless steel cookware, we still want to know: do these differences make some pots or pans better performers than others?
As mentioned, you should first figure out whether the cookware is truly 5-ply or if it consists of 3 metal layers and two microscopic, invisible bonding layers. Most cookware marketed as 5-ply is comparable to All-Clad's 3-ply. Most of these products feature a thick aluminum layer between stainless steel layers. So, you wouldn't notice a considerable performance difference between, say, Calphalon's 5-ply and All Clad's 3-ply.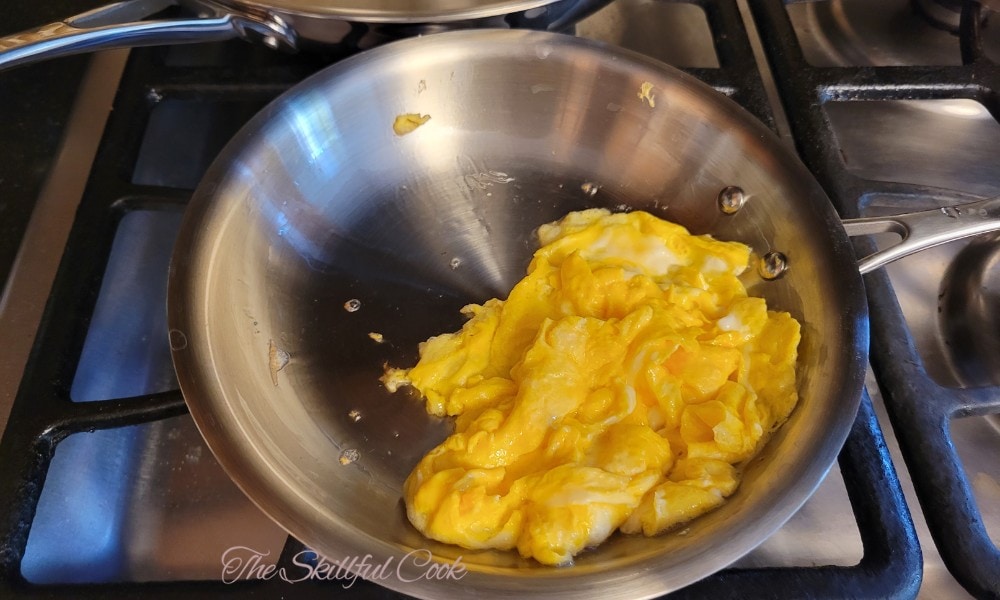 At the end of the day, the thickness and the quality of the material used in cookware construction matters more than the number of plies.
Keeping that in mind, let's look at what the layers in stainless steel cookware do:
Now, let's see how 3-ply and 5-ply stainless steel cookware stack up against each other in performance tests.
Even Heating
This is perhaps the primary reason that makes customers lean toward 5-ply pans. The higher the number of layers, the lower the chances of hotspots. This will give you a smoother heating and more even cooking.
| | |
| --- | --- |
| Winner: | 5-ply heats more evenly. |
Weight
5-ply cookware tends to be heavier than 3-ply as it has more metal layers. This may be a deal-breaker for some home cooks, especially for stir-frying. Still, it depends on the construction and the metals used. A specific brand's 3-ply may be heavier than another's 5-ply.
| | |
| --- | --- |
| Winner: | 5-ply is heavier, but that may make it harder to work with. |
Thickness
Cookware's thickness matters a lot when it comes to smooth heating. 5-ply cookware has more layers, meaning it's thicker. The thicker the cookware, the higher the heat retention, which is essential in searing meat. When you add cold food to the pan, thicker pans lose their heat much more slowly, giving you a better sear.
However, this heat retention is important in some cooking methods, but not all. In some cases, it can be a downside. For example, when you want your cookware to cool down quickly, a 5-ply pan can be a disadvantage.
| | |
| --- | --- |
| Winner: | 5-ply retains heat better but is less responsive. |
Durability
Generally, stainless steel cookware is tough stuff. But, the higher the number of layers, the more durable the cookware is. Thanks to its more robust structure, it's more resistant to warping and dents.
However, it's important to compare 3-ply and 5-ply cookware only within the same brand. Between brands, compare the grade of stainless steel and the overall thickness to determine the durability – don't rely on just the number of plies. One brand's 5-ply cookware may be less durable than another's 3-ply.
| | |
| --- | --- |
| Winner: | 5-ply is usually more durable, but it depends on the individual brand. |
Price
3-ply stainless steel cookware is generally less expensive than 5-ply. It has a less complicated manufacturing process. The price difference is sharper when the 5-ply's core material is copper. Generally, copper cookware is pricier, since copper is a premium cookware material that's in high demand.
| | |
| --- | --- |
| Winner: | 3-ply is usually more affordable. |
The Verdict
A quick look at the above comparisons makes 5-ply a clear winner on paper. But real life opinions from professional chefs and home cooks paint a different picture. Many users tend to favor 3-ply over 5-ply stainless steel cookware.
Honestly, the difference in performance between 3 and 5-ply stainless steel pans are very small to negligible in most cases. As a home chef, you may never notice—or care—how fast the pan gets hot. (As mentioned, most brands don't have truly 5-ply cookware. That's the main reason you don't notice any difference when comparing, for example, Made In's 5-ply with All Clad's D3!)
That said, the cookware's cooking performance does matter for certain cooking methods. Searing requires cookware with great heat retention. So, a 5-ply skillet will be the best option. On the other hand, responsiveness is necessary for cooking delicate proteins and sauces.
Finally, the decision between 3-ply and 5-ply cookware depends on your budget. Since 5-ply cookware is more expensive, you should decide whether the extra layers are worth the extra dollars. If money isn't an issue, I suggest indulging in copper core 5-ply stainless steel to enjoy its exceptional heat performance.
Set Includes: 8" and 10" Fry Pan, 3 Qt Saute Pan with lid, 1.5 Qt Saucepan with lid, 3 Qt Saucepan with lid, and 8 Qt Stockpot with lid

This is a classic tri-clad stainless steel cookware set at a decent price. The 2.5 mm thickness is enough to offer excellent heat retention and conductivity. The magnetic stainless steel exterior makes it induction-ready, and the 18/10 stainless steel exterior means it's durable and scratch-resistant.

Quick Overview:
---
Hestan produces one of the few truly 5-ply lines of stainless steel cookware. It stays true to Italian craftsmanship with a beautiful, elegant design that performs exceptionally well. The 100% pure copper core offers even heat distribution, and the stainless steel interior remains nonstick if heated at the right temperature.
However, the copper layer on the outside of the pan needs brushing once in a while. Plus, the handles are riveted at an angle that makes handling uncomfortable.
Quick Overview:
---
Best 5-ply Copper Core Stainless Steel Cookware Set: All-Clad Copper Core 5-Ply
Set includes: 8" and 10" fry pans, 2 Qt and 3 Qt saucepans with covers, a 3 Qt saute pan with cover, and an 8 Qt stockpot with cover
This copper core 5-ply stainless steel set has the same construction as All-Clad's D5 series. The only difference is that the D5 series has a stainless steel core, while this set has a copper core. The copper layer gives the pots and pans excellent heat conductivity and smooth cooking. If you look at the edges, you can see all five layers, with the copper layer in the center.
The sleek exterior has a copper ring around the vessel, and the stainless steel handles are riveted at the best angle to offer comfort. If you can stomach the high price, this set can be a worthwhile investment as it's warp-resistant and thick enough to be durable.
Quick Overview:
Conclusion
Although 5-ly stainless steel pans can offer higher durability and heat conductivity, the number of plies shouldn't be your primary criterion. Instead, look for the actual thickness and the metals used in the cookware. In most cases, 3-ply cookware works as well as 5-ply within the same brand.
If you have any questions regarding multi-ply stainless steel, feel free to ask them in the comment section below!
We are sorry that this post was not useful for you!
Let us improve this post!
Tell us how we can improve this post?