My mother taught me how to care for stainless steel cookware before handing down her vintage pots and pans to me back in the early 80s. There's a learning curve to cooking on stainless steel, but it's easier to take care of than you think! Read on to learn my 15 great tips for having fantastic cookware you can pass down to your children. 
How To Care For Stainless Steel Pans? 
To care for stainless steel pans, wash them in warm, soapy water with a sponge or dishcloth (not steel wool, as it scratches). Dry them thoroughly and store by hanging them or stacking them with pan protectors to prevent scratches. Inspect them regularly and polish if necessary.
Here are 15 do's and don'ts of caring for your stainless steel cookware.

1. Hand Wash for Best Results
Most stainless steel is dishwasher safe. However, overly high temperatures of dishwashers can damage lower-grade stainless steel and bake on food residue, making it extremely hard to remove.
To maximize the longevity of your stainless steel cookware, hand wash your pots and pans. Allow a pan to cool after cooking before washing it. Use warm, soapy water and a sponge or dishcloth to clean it. For harder-to-remove burnt-on foods, discoloration, or food residues, use a soft, non-metal scour pad (nylon is good) with a solution of equal parts white vinegar and water.
2. Preheat Before Cooking
Always preheat stainless steel cookware before adding oil or food. To know when it's ready to add oil, place the pan over medium heat for a few minutes. Add a couple of drops of water. When the water forms a bead, it's good to go and ready to start cooking.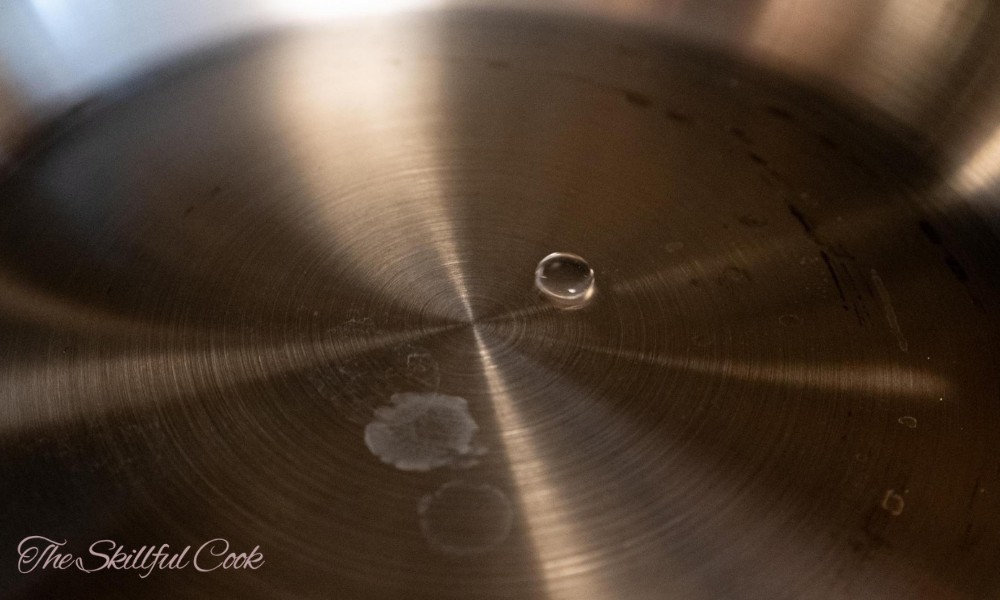 Add your cooking oil of choice– olive or vegetable oils, butter, margarine, or ghee all work–and enjoy sautéing seafood, scrambling perfect fluffy eggs, or searing a steak.
3. Don't Overheat
Stainless steel cookware has excellent heat distribution and retention. Because of this, it only needs a medium heat for optimal cooking. It is oven-safe, withstanding heat up to 500 – 600°F. It's great if you want to sear a steak and finish it in the oven, but most stainless steel skillets are not designed to roast big cuts of meat for hours.
Lower-grade stainless steel (18/8) risks warping or buckling at higher temperatures of dishwashers and ovens.
4. Use The Right Oil
Because burnt oil will stain your pan and be very hard to remove, make sure to use oil with a high smoke point and avoid cooking sprays. Butter has a low smoke point, so remember to cook it at a lower temperature than an oil with a high smoke point, like grapeseed or peanut oil.
5. Control the Heat
Even heat is vital when cooking with stainless steel cookware. Its efficient and excellent heat dispersal means the whole bottom of the pan holds heat well, so you don't need as high of a temperature. Extended high temperatures can warp thinner stainless steel cookware and bake oil into it.
6. Use Pot Holders If Handles Get Hot
Ergonomic designs and longer handles have come a long way toward reducing the heat in your stainless steel cookware's handles. But handles still get hot, especially if you've transferred food from the stovetop to the oven to finish. It is wise to have pot holders to place hot pots on your countertop because you won't always be able to hold the pot or pan with your hands.
I also have my Queen of the Kitchen oven mitt hanging by the stove/oven for handling hot pots. That way, I know I won't drop a hot pot on the floor, causing damage, denting, or, worse, breaking the handles of my cookware when it's gone crashing to the floor.
7. Use Wooden or Silicone Utensils, Not Metal
I have used wooden or silicone utensils for a few decades now. They won't scratch the bottom of your pan, which is particularly helpful in maintaining the seasoning of your stainless steel. It also makes the stainless steel more manageable to clean without food residues getting stuck in all the scratches. Food residues are challenging to clean and lead to discoloration of the stainless steel, which needs a deeper cleaning.
8. Avoid Abrasive Cleaners – Baking Soda Will Do
I've never used abrasive commercial cleaners. Not in forty years of cooking with stainless steel cookware. If my pots and pans need a deeper cleaning, I add a little water to the bottom of the pan. Sprinkle on some baking soda to form a paste, and scrub with a soft scour pad. It has no problem removing every stain, discoloration, or food residue. 
On the odd occasion, you may need to use a more robust cleaner, then Bar Keepers Friend is a good one. 
9. Removing Discoloration, Food Residues, Burnt-On Oil and Food
My go-to stain remover is equal parts vinegar and water. For a small pot, use half a cup of water with half a cup of white vinegar. Add these to your pan and heat over medium heat until it boils. Reduce heat to a simmer and let that bubble away for 8-10 minutes. Then, take a wooden or silicone scraper and gently scrape the bottom, lifting burnt-on foods.
You can use a few alternate methods to fix discoloration on stainless steel cookware if you don't like the smell of vinegar. 
10. Air Dry
Leaving stainless steel out to air dry after you towel-dry it gives it time to dry thoroughly. The stainless steel isn't completely dry if simply wiped with a tea towel and put away. Why is this important?
Although high-grade (18/10) stainless steel is known to be rustproof, there is a risk of corrosion starting in any small scratches if not completely dry before storage. Especially if there is any chance of salt residue, like if you've boiled pasta water with salt added.
11. Store Properly: Stacking, Racking, Hanging
Scratching, breakage, and denting can happen when your pots and pans are thrown on top of each other. To prevent this, store your stainless steel properly. You can buy a stackable set of stainless steel cookware, or invest in a pan organizing rack, or use your shiny silver pots as decoration with a wall or ceiling hanging rack. I always store mine with a pan protector between each piece to prevent scratching.
12. Lid Storage Tips
Lid organizers are cheap, durable, and worth investing in. They protect your lids (the most easily damaged parts of your cookware set) and save time because you won't have to rummage around playing 'find the lid'; it's a sanity saver, trust me.
13. Consider Seasoning Your Cookware
Seasoned stainless steel cookware is easier to clean, I've found. The polymerized oil adds a layer of protection to the bottom of your pans. 
14. Regularly Check For Damage
This may seem like Maintenance 101 for stainless steel cookware, but it's easy to forget with such sturdy and durable cookware. Inspect your cookware for any signs of damage or warping regularly. Replace as needed.
15. Buff or Shine
To maintain the luster of stainless steel, periodically buff the surface with a stainless steel cleaner. Or, clean with vinegar, then massage a little olive oil in with a clean cloth. Remember, seasoned pans will always have a duller appearance due to the seasoning layer.
Frequently Asked Questions
Do stainless steel pans need to be seasoned?
No. Stainless steel pans perform well, whether unseasoned or seasoned. Seasoning your pans is a personal preference. 
What is the best oil for stainless steel pans?
Any oil that handles high heat well before it starts to smoke. This is called a high-heat smoke point. Good options are grapeseed oil, peanut oil, or vegetable oil. 
What should you not use on stainless steel cookware?
Conclusion
Stainless steel is incredibly durable and easily maintained. It doesn't take much time or effort to care for your stainless steel cookware. Used properly (preheated and never overheated), along with being cleaned and dried thoroughly before storing, it will last decades.
We are sorry that this post was not useful for you!
Let us improve this post!
Tell us how we can improve this post?