If you're on the hunt for cookware that's better for the planet than Teflon, stainless steel and carbon steel are probably on top of your list. They're both made of types of steel – but does that mean they work the same way?
Actually, carbon steel is more similar to cast iron than to stainless steel! Since stainless and carbon steel have different strengths and weaknesses, a well-rounded kitchen can benefit from both of these types of non-toxic cookware!
Let's discuss everything you need to know about the differences between carbon steel and stainless steel, their uses, and what to look for in each.
What's the Difference Between Carbon Steel and Stainless Steel Pans?
Carbon steel is 98-99.5% iron with a bit of carbon added, while stainless steel is an iron alloy containing additional metals such as chromium and nickel. These metals give stainless steel a shiny, rust-resistant, surface that's great for nearly every kind of cooking.
Carbon steel is also versatile and can be used for most cooking methods. Carbon steel doesn't handle water or acidic foods well, so it's almost always used for skillets or woks – not pots.
Carbon Steel vs Stainless Steel Pan – Pros and Cons
Pros
Cons
Carbon steel
✅ Durable
✅ Safe
✅ High heat tolerance
✅ Versatile
✅ High thermal conductivity
✅Affordable
❌ Rust-prone
❌ Reactive to acidic food
❌ Needs regular seasoning
❌ Not dishwasher safe
Stainless steel
✅ Safe
✅ Durable
✅ Easy to maintain
✅ Versatile
✅ Responsive
✅ Dishwasher safe
❌ Not non-stick
❌ Has a learning curve
❌ Not all are induction-compatible
❌ Hard to clean if food sticks
Construction of Carbon Steel Pans vs Stainless Steel
Carbon steel is cast iron's close relative. They share a significant part of their composition: iron and carbon. The only difference is the percentage of these elements.
Cast iron has more carbon (2-4%). This makes it brittle, which has to be offset by making the cookware thicker. Carbon steel has less carbon (1-3%), so it's stronger. The lower carbon percentage makes it more malleable, so carbon steel pans are thinner and lighter than cast iron.
Stainless Steel
Like carbon steel, stainless steel is an iron alloy. The big difference is that stainless steel contains more alloying metals, including chromium and nickel and possibly others, such as manganese or titanium. It has a much lower carbon content, which means it's not as hard or brittle as carbon steel. However, stainless steel has a chromium coating that makes it rust and corrosion-resistant.
Unlike carbon steel, stainless steel conducts heat poorly. So, it can't be used in cookware by itself. So manufacturers add layers of conductive metals, like aluminum and copper, to stainless steel pans. These conductive layers can be bonded to the bottom of the cookware or be integrated into the entire vessel through a clad construction. Either way, if a pan is sold as "stainless steel," it means that the cooking surface that touches your food will be stainless steel.
Advantages of Carbon Steel
Carbon steel is perfect for the cook who loves cast iron but wants something lighter. Here are the primary benefits of carbon steel:
Disadvantages of Carbon Steel
Despite these merits, carbon steel comes with disadvantages that make it a deal breaker for some chefs.
You should consider these pros and cons in relation to other cookware materials. For example, carbon steel has great thermal conductivity, but it can't beat aluminum and copper in that area. So, you may experience more hot spots with carbon steel than stainless steel with a copper core.
The same goes for heat retention. Since carbon steel is thinner than cast iron, there's less material to retain heat. So, it has a lower heat retention than cast iron.
What Can You Cook in a Carbon Steel Pan?
Carbon steel is prized for its versatility. You can use it to cook anything you would in a cast iron skillet and more. Since it's lightweight, you can use it for stir-frying and sauteing. And, since carbon steel has high heat tolerance, you can use it for oven-to-stove cooking. Searing, boiling, simmering, and braising are other cooking methods that carbon steel lends itself well to.
The only catch is that you should be careful with acidic foods like tomato sauce and lemon juice. Since carbon steel reacts with acidic foods, avoid cooking these foods, especially for long periods, in a carbon steel pan. You also shouldn't boil water or make sauce in carbon steel – but stainless steel is great for all these things.
How To Care For Carbon Steel
Carbon steel requires moderate maintenance. It's not a type of cookware you can just toss in the dishwasher and store in the cabinet afterward. Since it's prone to rust, it needs some care.
Here's what you can do to prolong your carbon steel pan's lifespan:
Caution: if you heat your cookware to dry it, wait for it to completely cool before wiping it with a thin layer of oil. Oil that's wiped on to a hot pan but not burned off fully will get very sticky.
How To Choose the Best Carbon Steel Pan
There's not as much difference between different brands of carbon steel pans as some other types of cookware. Still, you should do your homework before picking the best one for your kitchen.
Here's what to consider:
All About Stainless Steel Pans
Okay, so let's talk about stainless steel now! Stainless steel is the workhorse of many modern kitchens thanks to its exceptional durability and versatility.
Advantages of Stainless Steel
Many home and professional chefs switch to stainless steel cookware for the following reasons.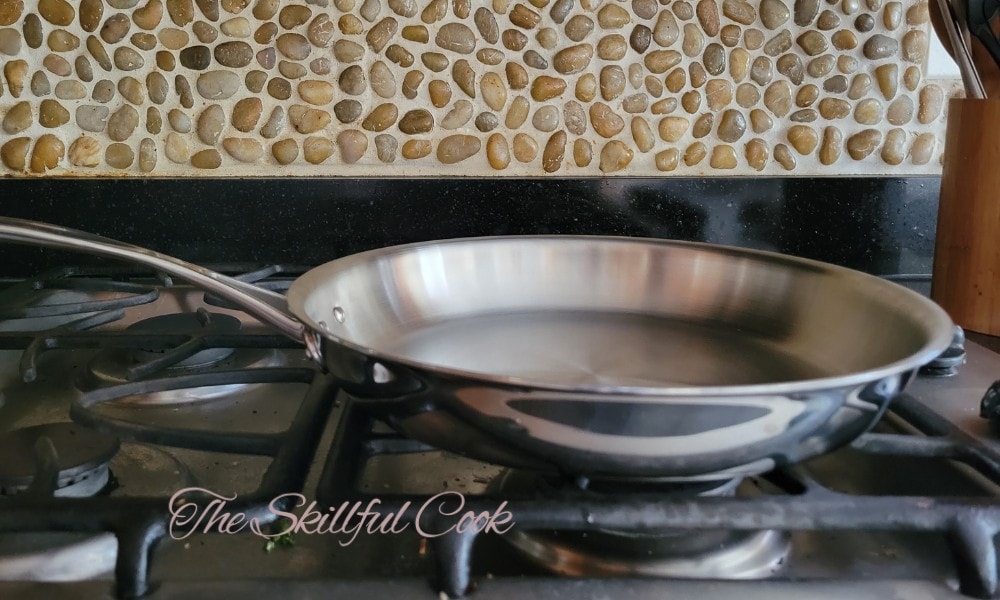 Disadvantages of Stainless Steel
Like any other cookware, stainless steel comes with a few disadvantages:
What Can You Cook in a Stainless Steel Pan?
You can cook virtually anything with stainless steel cookware, from steaks and eggs to soups and stews. Plus, stainless steel is oven-safe. Most stainless steel products can tolerate up to 600°F. So, you can safely use it in the oven and for high-heat purposes like searing steak.
What's more, stainless steel isn't reactive. So you can use it to cook acidic foods, unlike a carbon steel pan. Still, you should keep the cooking time shorter with acidic foods to minimize nickel and chromium leaching into your meal.
How To Care For Stainless Steel
Generally, stainless steel is long-lasting and resistant to deep scratches. However, you can follow these tips to keep it shiny.
How To Choose the Best Stainless Steel Cookware
With the vast variety of stainless steel cookware available, picking the right pots and pans can be challenging. Here's what to consider:
Are Stainless Steel or Carbon Steel Pans Healthier to Cook With?
Carbon steel and stainless steel are both among the safest cookware options. They don't contain synthetic polymers like the PTFE found in most nonstick cookware. However, as we've mentioned, they may leach metals into your food, especially if you cook acidic foods.
Carbon steel can leach iron, which is not toxic but can change the flavor and color of your food. You won't face health issues unless you have a chronic case of high blood iron. Stainless steel can leach small amounts of chromium and nickel, but researchers determined that the amounts decrease after the first 6-7 times the pan is used.
Which is Easier to Maintain – Stainless Steel or Carbon Steel Pans?
Stainless steel is easier to maintain than carbon steel. It doesn't require seasoning and doesn't rust. You also don't need to be as careful about what foods to cook on stainless steel, since it can handle acid and water just fine. Stainless steel is dishwasher-safe, but carbon steel is not.
Do Carbon Steel or Stainless Steel Pans Last Longer?
Both of these types of pans can last decades. Stainless steel lasts longer on average because it is less prone to pitting, rust, and warping.
The lifespan of a metal pan depends on how well you care for it. Heat up the cookware gradually over medium or low heat to prevent thermal shock. Let it cool and clean and dry it well shortly after each time you cook.
Conclusion
Both carbon steel and stainless steel are wonderful to work with – although both take more skill than a nonstick skillet. Both are safe, highly conductive, and versatile. A stainless steel set can give you everything you want for home cooking. However, a carbon steel pan gives you all the benefits of cast iron with more ease and comfort.
We are sorry that this post was not useful for you!
Let us improve this post!
Tell us how we can improve this post?