Misen introduced me to cooking with carbon steel, and it got me hooked. My Misen carbon steel pan is less intimidating to use, season, and wash than my cast iron, and it's even easier to clean than my stainless steel. The trick to loving this pan – like any carbon steel – is learning to use it correctly.
In this Misen carbon steel review, I'll describe how it stands out from competitors with its wider cooking surface and gently sloping sides. This makes it wonderful for searing steak and sauteeing veggies, but it also makes it more prone to warping – especially since the updated Misen pan has thinner walls than the original version. It comes pre-seasoned from the factory, but you should season it at home for best results.
The People's Favorite Carbon Steel Pan?
In my experience, Misen is a great company. It's a newcomer to the cookware market – especially compared to brands like Matfer Bourgeat and de Buyer, which have been household names in carbon steel since the early 1800s.
Misen is a direct-to-consumer cookware brand that started in 2015 with a Kickstarter campaign. The original campaign was for a nonstick aluminum pan, but the brand's accessible marketing and great customer service gained it such a huge following that it was able to branch into other types of cookware quickly. Misen kickstarted their original carbon steel pan in 2020 when 21,993 backers put up over 2 million dollars to see these pans produced.
For many people like myself, this Kickstarter campaign was their entry pass into the world of carbon steel. Because, although European chefs have relied on carbon steel for centuries, most American home cooks are still unfamiliar with these pans. Misen's customer base consisted largely of people who had never used carbon steel before, so the brand got feedback that its original carbon steel pan was "too hard to season" and "too heavy."
In response, Misen launched a new Kickstarter campaign in 2022 for a carbon steel model that would be more user-friendly. The new pans shipped out in 2023 and are currently available on the Misen website.
A Detailed Look a the Misen Carbon Steel Pan
What makes the Misen brand stand out from established cookware lines (like de Buyer's Mineral B) so much that the cooking community would pledge a cumulative 3 million dollars to bring its carbon steel plans to life?
In the chart below, I compare the Misen 2023 model (the only one currently available) to the De Buyer Blue and the Made In Blue Carbon Steel pans because all three of these pans have a thickness of 2mm. If you prefer thicker (3mm) steel, you'll love the Matfer Bourgeat black line.
| | Misen 10" Carbon Steel | De Buyer Blue 10.25 | Made In 10.25" |
| --- | --- | --- | --- |
| Price | 💰💰 | 💰💰 | 💰💰 |
| Diameter rim-to-rim | 10.88" | 10.25" | 10.25″ |
| Diameter of cooking surface | 8.5" | 7.5" | 7.25" |
| Height of sides | 2" | 2" | Approx 2.5" |
| Weight | 3.2 lb | 3.2 lb | 3 lb |
| Thickness | 2mm | 2mm | 2mm |
| Handle | Flat with silicone sleeve and 2 rivets | Welded flat angled handle | Tall arched stainless steel with 3 rivets |
| Preseasoning | Yes | No | No |
| Country of Origin | China | France | France |
| Dishwasher safe | No | No | No |
What are the differences between the 2023 Misen carbon steel pan and the original model?
The main difference between the original Misen carbon steel pan and the new one is that the 2023 model is thinner – the steel is 2mm thick instead of 3mm thick. This makes the pan weigh less and heat up more quickly; it also makes it more susceptible to warping. The other major difference is that the pan comes pre-seasoned from the factory.
Materials and Construction
The Misen carbon steel pans are made, like all other carbon steel pans, of an iron alloy that's about 99% iron and 1% carbon. This is actually less carbon than cast iron, making these pans less brittle and more malleable than cast iron. As a result, they can be made thinner and lighter. The 2023 Misen carbon steel pan is about 25% lighter than the original Misen carbon steel, and 40% lighter than a typical cast iron skillet of the same diameter.
Weights of the 2023 Misen Carbon Steel Pans:
8 inch: 2.1 lb / 0.9 kg
10 inch: 3.2 lb / 1.4 kg
12 inch: 3.9 lb / 1.8 kg
These are comparable weights to other 2mm thick carbon steel pans, but are lighter than 3mm carbon steel pans.
Where are Misen Pans Made?
All Misen products are made in China, which causes some cooks to avoid the brand altogether in favor of its French-made competitors. But in my experience using Misen products, the construction seems of excellent quality. I have had a total of three Misen pans (including a nonstick one) and although the coating eventually wore off the nonstick pan, none of my pans have developed loose rivets or shown signs of poor construction.
Important note: The new version of the Misen carbon steel pan comes pre-seasoned with a variety of oils, including soybean and peanut oil. This could be concerning for those with soy or peanut allergies.
Shape and Size
The signature difference between Misen and its competitors is the shape of its carbon steel pan. Almost all other carbon steel pans have side walls that meet the cooking surface at an angle, creating a crease around the bottom edge of the pan. These higher walls are great for containing frying oil and reducing splattering, but the shape can be awkward to get used to.
The Misen skillet is shaped more like a typical aluminum or stainless steel pan, with lower, gently sloping sides. This creates an overall wider cooking surface. The cooking surface on my 12" Misen pan is 9.75" compared to 9.25" on the Matfer Bourgeat.
The sides of the 12" Misen pan are about 4 cm high, or just short of 2 inches.
I really like the wider cooking surface and shorter sides on my Misen pan. It releases more moisture and allows you to cook more food on it without steaming it. Steaming food on a carbon steel pan can cause sticking, reduce caramelizing, and prevent proteins from developing a crust.
Handles
The handles on the Misen carbon steel pan are flat and made of steel with a blue silicone sleeve. The sleeve is oven-safe to 500°F and can slide off the handle for broiler use. The disadvantage to the removable sleeve is that it can slide off when you're trying to handle the pan; I came dangerously close to dropping a hot skillet of food on myself the other day when the silicone sleeve slid partly off the handle while I was trying to turn the pan.
The handles are attached to the pan with a broad plate and two small rivets. I would typically shy away from pans with only two rivets, but the handles haven't budged on my Misen pans in two years of hard use.
Design & Aesthetics
The Misen pan bridges a gap between the signature industrial look of most carbon steel pans and the trendy colorful vibe of modern nonstick cookware. The result is okay; these pans aren't showstoppers, but they look respectable on your cooktop.
As with any carbon steel pan, as you begin to use and season it, the once-bright steel will turn blue, brown, black, orange, or a blotchy combination of these colors. Don't be alarmed; this is the nonstick patina developing. In time, if seasoned correctly, a carbon steel pan will turn almost solid black.
Price
The Misen carbon steel pans are popular because they were well marketed; the brand's Kickstarter campaigns and social media brought awareness of Carbon steel to many home chefs. But they aren't much cheaper than the competition if any at all.
You can get a time-tested de Buyer Mineral B pan for about the same cost as a Misen carbon steel. There are many lesser-known (but still excellent quality) brands that are less expensive than Misen. Misen tends to be a little cheaper than French brands Mauviel or Mafter Bourget.
Versatility
The Misen carbon steel pan is highly versatile – though, I would argue, the thinner 2mm version is not as versatile or durable as the older model. The new model, according to comments on the Kickstarter page from people who have received their product, is prone to warping, especially when used on an electric or induction stovetop. The wider 10 and 12" skillets are more prone to warping than the smaller 8" omelet pan.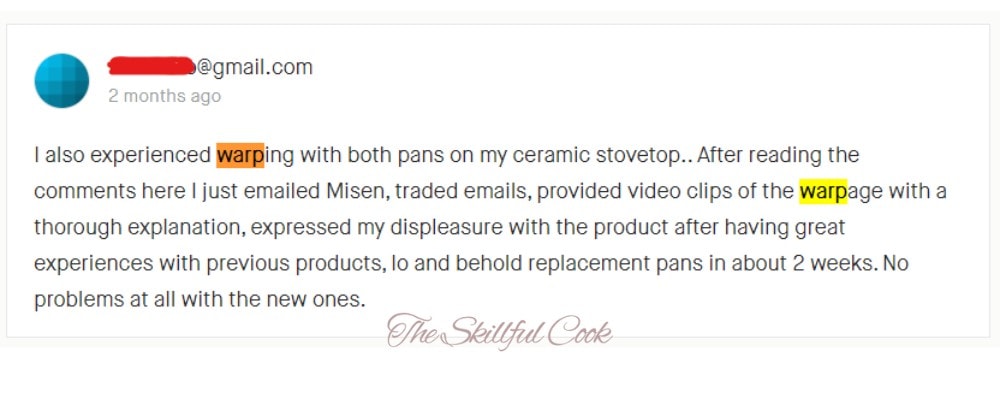 To avoid warping, make sure to bring your stove up to temperature slowly. Gradually increase the temperature of your electric or induction cooktop to avoid shocking the metal with a sudden change in temperature. Likewise, make sure to let the pan cool down naturally before running it under cold water.
The 2mm Misen pan is more responsive to heat than the older version. This means that it will heat up more quickly and cool down more quickly as well. This makes it better than the 3mm version for making delicate foods like French omelets, where you need to control the cooking temperature exactly. But, as long as you're careful with the pan, you can definitely cook tougher stuff like steak or chicken on it as well.
You can use a Misen carbon steel pan for eggs, crepes, sauteed vegetables, fish, and other proteins. I've even made fried rice in it. You should avoid making acidic sauces with tomatoes, vinegar, or lemon juice in this pan, as these will strip the seasoning. (It's also not the right shape for sauces or melting and tempering – use a stainless steel saucepan instead!)
The Misen carbon steel pan is oven-safe to 500°F with the silicone handle cover and up to 1200°F if you remove it. This is a pan that, as long as you bring it up to heat gently, can withstand cooking at very high temperatures on the stovetop as well.
Ease of Use
There's a learning curve to seasoning and using carbon steel – any carbon steel. And this, I think, is where the Misen brand's revised carbon steel product campaign went sideways. Knowing that much of their customer base had never used carbon steel before, the brand decided to offer a pre-seasoned "ready to cook on" pan that was "easy to use" right out of the box. This unreasonable expectation set their customers and backers up for disappointment – which is why, if you read the reviews on the 2022 Kickstarter campaign, you'll find a lot of unhappy ones.
The truth is that NO factory seasoning on any carbon steel or cast iron pans is going to be as good as home seasoning. Chefs experienced with carbon steel know that it takes months to develop a full seasoning on a pan and that it continues to get better with age. This, too, only happens if you use the pan very carefully so that the layers of seasoning continue to develop.
When Misen promised a "naturally nonstick" pre-seasoned pan that was easy for beginners to use, many of its customers assumed that you could use it just like a pan with a nonstick coating. In reality, the factory seasoning gives you a head start on seasoning, but it doesn't make the pan everlastingly nonstick without proper care.
Using too much oil to season your pan will leave it sticky. Neglecting to scrub off every bit of burnt food will lead to a rough and uneven surface. Leaving it to soak can cause rust. Scrubbing too much, cooking acidic foods, or using the wrong cleaning agents will damage the seasoning. There is often a lot of user error with carbon steel pans that impacts its performance, but the pan itself is of good quality.
Longevity and Warranty
Like most other major cookware manufacturers, Misen offers a lifetime warranty against manufacturing defects. The warranty page on the company's website details several misuse cases in which the warranty does not apply. For carbon steel, these include:
This list seems to exclude everything that could go wrong with a carbon steel pan. But there's good news: even rusted or stripped carbon steel pans can be restored. Use a vinegar soak to loosen the seasoning, scrub it with all you got until you can see bare metal, and reseason it. It takes about an hour of work to bring a rusted pan back to good shape. With proper care, your Misen carbon steel pan can become an heirloom. You should not need to replace this pan unless it warps, becomes severely pitted, or you drop it on a tile floor and it dents.
If you do have a problem with your Misen carbon steel pan that re-seasoning can't fix, don't hesitate to reach out to the company. In my experience, and from what I've seen other reviewers say online, Misen is very responsive to warranty claims – more so than many larger companies. Misen replaced our nonstick pan for us when it buckled, even after two years of use.
Safety
Made of iron with a tiny percentage of carbon, carbon steel is considered one of the safest cookware materials. Like cast iron, carbon steel pans will transfer iron to your food; the amount depends on the type of food you're cooking and the thickness of the seasoning layers. More seasoning means less exposed iron and less leaching. Acidic foods not only react with iron, but also pull the seasoning off your pans.
Carbon steel pans can get extremely hot, so handle with care. Thankfully, the silicone sleeve on the Misen handle works well and stays cool when cooking. Carbon steel doesn't release fumes from the pan itself, but it isn't good to breathe the smoke that may be created when seasoning the pan. Always use an exhaust fan and/or keep the windows open when seasoning.
Misen Carbon Steel Pan Review – Testing
Note: These tests were performed in the 2020 Misen carbon steel pan. Many of the pan's features are the same as the 2023 version, particularly the unique size and shape of this carbon steel skillet.
I have a 12" Misen carbon steel skillet that I've used for two years. It quickly became my favorite pan. I would say it doesn't hold the seasoning quite as well as a de Buyer, but it's hard to tell whether that's due to the quality of the pan itself or the way I've used it.
Cooking Eggs
My 12" Misen pan is larger than I need for cooking eggs, but it heats so evenly that it performed very well in the egg test. It took about a minute and a half on my gas stove with a medium flame to come to temperature. Then I added a teaspoon of oil, a couple of whisked eggs, and some fillings.
As you can see from the photos, the pan released the omelet very nicely. I prefer using this pan over stainless steel for cooking eggs, because I don't have to get the pan as hot or add as much oil to make it nonstick as I do with stainless steel.
Cooking Pancakes
Pancakes and crepes are some of the harder things to cook on carbon steel, because the seasoning needs to be even and in excellent shape to release the cooked batter. But, if you get it right, the Misen makes wonderful crepes thanks to its lower sides and wider cooking surface than most carbon steel pans. This large cooking surface also makes it great for batches of smaller pancakes.
In my tests, I wasn't able to get the pancakes to release without using any oil at all. This is not a fully nonstick pan. However, with a small amount of oil, I was able to cook them as lightly as I wanted; there was no need for high heat to get them to fry and release.
Cooking Chicken Breast
Misen is one of the best carbon steel pans available for cooking proteins because its lower sides allow more moisture to escape, preventing your steak or chicken from steaming and sticking to the pan.
To cook these chicken breasts, I patted them dry and seasoned on both sides with salt and sansho pepper. I preheated the pan on medium-high and added a glug of avocado oil, then the chicken breasts.
In 4 minutes, they developed a nice crust and were ready for turning. The chicken was fully done in 10 minutes.
As you can see, there was minimal sticking to the pan.
Cleaning the Pan
Carbon steel pans should never be soaked in water. In an ideal world, you'd never want to, because your pan would be perfectly seasoned and release food every time. When you have a well-seasoned pan and use it correctly, cleanup is quick. It is okay to run your carbon steel pan under water to wash it, as long as you let it cool fully first. Then wash with warm water, a nylon scour, and dish detergent if you please.
And yes, you can wash your carbon steel pan with soap! Soap will bind with any grease that's not become part of the seasoning, but it shouldn't strip the layers of fully polymerized, carbonized grease that have bonded to the pan. Removing any excess grease that has not fully polymerized is actually key to starting with a naturally nonstick surface next time you cook. Oil that's been heated (but not heated enough to carbonize) is very sticky and will gum up your pan.
After washing, you must dry your carbon steel pan thoroughly. Some people like to season it every time they use it; others simply heat the pan on the stove to dry it, then add a wipe of protective oil once it cools down. Do not add oil to the hot pan unless you burn it off and season it; otherwise, you'll be making a hot sticky oil mess all over again.
When food does stick to your Misen pan, you can remove it with water and a nylon scour. Go ahead and scrub as much as you need to, even using a chainmail scrubber if necessary. Then re-season your pan.
My 2020 Misen carbon steel pan is heavy and awkward to wash, but the 2023 version of the pan is much easier to handle. The 12" size only weighs a bit more than 3 pounds.
Seasoning the Misen Carbon Steel Pan
The new Misen carbon steel pans come factory seasoned, so you don't need to strip the shipping wax off of them, like with the original model. You can cook with it right out of the box as soon as you give it a light wash. However, you'll have far better results if you start with cooking greasy foods like bacon to add to the layer of seasoning. Or, if you season the pan once or twice at home, first.
You can season your Misen pan on the stovetop or in the oven. The best oil choices for seasoning are grapeseed, canola, or vegetable oil. Misen sells a seasoning wax that contains beeswax with soybean and coconut oils.
Conclusion: Is Misen a Good Brand?
Misen is a newer brand of cookware built on loyalty and good customer service. Its creative and accessible marketing campaigns introduced many American home cooks to carbon steel – and we have to thank them for that. The product is a well-made carbon steel pan; not necessarily better made or much better priced than the competition, but worth the investment. The new version of the pan is only 2mm thick and prone to warping if not handled carefully, but this also makes it more responsive to heat, so it may perform more like the aluminum cookware that many of Misen's customers are used to.
Did you Kickstart the Misen pan? Have you tried it since then? Please share your experience in the comments!
We are sorry that this post was not useful for you!
Let us improve this post!
Tell us how we can improve this post?