Copper cookware has been around since 3000 BC, and it's still going strong. But nowadays, it's got stiff competition from materials like stainless steel.
Personally, I love both of these cookware options. They are both time-tested materials that have different strengths. If you have the budget to have both stainless steel and copper cookware in your kitchen, they will provide you with a versatile range to choose from when cooking.
In this article, I'm going to compare these materials in detail so you can choose which would suit your cooking best.
Copper vs Stainless Steel Cookware – Which is Better?
Copper has been used as cookware for thousands of years because it is a responsive heat conductor. However, it is also very reactive and needs to be lined in another material to be safe to cook with.
Stainless steel is super durable and is not reactive, even to acidic foods. But, it is a poor heat conductor on its own. High quality stainless steel cookware relies on a combination of metals, usually copper or aluminum, incorporated into the design to make it heat up evenly.
The good news is that you don't have to choose between them! Instead of picking copper vs stainless steel, I suggest investing in hybrid cookware! For example, this world-famous All-Clad line is made from durable stainless steel on the inside and outside, with a copper core for superior heat distribution. Or, if you want to lean into the benefits of copper, you could get a show-stopping copper-clad pan with a stainless steel interior.
Stainless Steel vs. Copper Pans – Pros and Cons
| Stainless Steel | Copper |
| --- | --- |
| Non Reactive | Reacts to acidic foods |
| No nonstick coating | No nonstick coating |
| Unlined | Needs to be lined in tin or stainless steel to be safe to use |
| Luxury but more affordable | Luxury cookware |
| Poor heat conductor | Great heat conduction and retention |
| Dishwasher safe | Hand wash only |
| Needs to be polished to maintain the finish | Needs to be polished to maintain the finish |
| Good for high heat searing | Good for cooking delicate proteins on low heat |
| Relatively young cookware material | Ancient cookware material |
| Leaches small amounts of nickel and chromium | Bare copper leaches copper into food |
12 Differences Between Copper and Stainless Steel Pans
1. Materials and Construction
High-quality stainless steel pans will have a 3 or 5-ply design. This usually involves an exterior layer of nickel-free stainless steel and 304 18/10 or 18/8 stainless steel inside. Sandwiched between these layers is an aluminum or copper core.
Modern copper cookware is structured to make the pan durable and ensure that your food doesn't come into direct contact with the copper. The copper may be on the outside of the pan as cladding or have a copper core sandwiched between other layers of metal, most likely stainless steel.
2. Thickness
It's essential to get stainless steel at the right thickness for it to function at its highest level. Too thick, and it will be too heavy to maneuver or slow to respond to temperature changes. Too thin, and it will be easily damaged and produce uneven heat. 3.0mm stainless steel thickness is the perfect balance of efficiency and weight, making cooking easy.
The perfect thickness for copper cookware is 2.5 to 3.0mm. This produces fast, even heat but won't be dented easily. Remember that this is not solid copper and includes the stainless steel lining.
3. Heat Transfer/ Responsiveness/Retention
Copper is the best heat conductor in the industry; it's even 60% better than aluminum. This provides precise temperature control and responsiveness. But it also means that these pans lose and gain heat very quickly, which can be challenging to get used to.
Stainless steel has poor heat conduction and retention on its own, so it relies on cores of other materials to improve conductivity and responsiveness. Most of this cookware is made of inner and outer layers of stainless steel, sandwiching a fast-heating aluminum or copper core.
4. Ease of Use
Both stainless steel and copper cookware require a learning curve to use them at their optimal level, so beginners may struggle with them.
Stainless steel needs to be the perfect temperature to prevent sticking, which can take some getting used to. They can be used on high heat and in the oven. Most of these pots and pans are induction-compatible.
Copper is challenging because it gains and loses heat very quickly. This means you get very precise heat control, but it requires skill to make use of it. Copper pans are best used on low heat. Some brands of copper cookware are induction-compatible.
5. Applications
Due to its precise heat control, copper is best suited for cooking delicate proteins, candy-making, and sauces. I recommend only using these pans for low-heat applications.
On the other hand, stainless steel is great for searing on high heat. It's also perfect for dishes that start on the stovetop and finish in the oven because of its high heat tolerance. This material is super versatile so you can use it for almost anything, even acidic sauces. Again, the best of both worlds is to get stainless steel cookware with a copper core; you can cook whatever you like in these pans.
6. Cleaning
Copper-clad cookware is not dishwasher safe, but some brands with a copper core may be. It is best to clean these pans with a soft sponge and gentle detergents.
Stainless steel is much more convenient to clean because it's dishwasher safe. If you are washing by hand, you should avoid caustic cleaners, which can damage the surface.
7. Care and Maintenance
Both of these materials require polishing to maintain their attractive appearance, but maintaining copper is more work. I recommend using this copper polish to get your copper shining! If you are using vintage, tin-lined copper cookware, you will need to get your pan retinned whenever it starts to thin out.
8. Appearance
Both of these cookware materials are known for their attractive, shining appearance, but copper wins every time, in my eyes.
Copper pans come with either a hammered or polished finish. Both can be gorgeous, so it really comes down to your personal taste when choosing between them.
9. History
Out of these materials, copper has the most extensive history. Copper cookware has been found dating back to 3000 BC! But it really came to popularity with the rise of French cooking as a global food authority in the 1700s.
Stainless steel is young in comparison, as it was only invented in 1913. The developers of this material added chromium to steel to increase durability, which revolutionized the material. It became broadly used as cookware in domestic settings in the 1930s.
10. Longevity and Durability
Out of these two materials, stainless steel is more durable. High-quality stainless steel is heirloom quality that can be passed down for generations without diminishing in quality. Stainless steel cookware can also benefit from proper storage to extend its lifespan.
While you may be able to find old tin-lined copper cookware still available in thrift stores, copper is not considered very durable. It is a soft metal that is easily dented or tarnished. It's very important to store your copper cookware correctly by hanging it or using pot protectors to prevent it from getting damaged.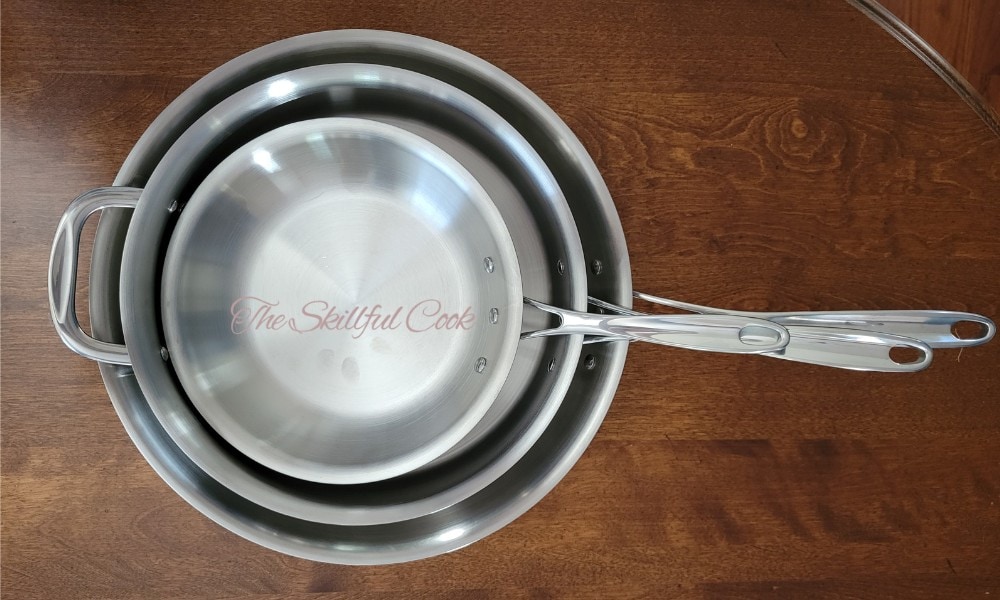 11. Health, Safety, and Environmental Concerns
Pans with copper on a surface that touches food will leach copper into your food, leaving a metallic taste behind. But the long-term effects of ingesting too much copper are more severe, including vomiting, diarrhea, nausea, and long-term kidney, stomach, and liver problems. Modern cookware doesn't carry this risk, because the copper is used only in the base or on the exterior of the pan.
Stainless steel is considered a great nontoxic cookware option because it's nonreactive. While stainless steel leaches some nickel and chromium into your food, the levels are safe for consumption unless you have a nickel allergy. Those allergic to nickel should stick to nickel-free stainless steel cookware.
12. Price
You may think that high-quality stainless steel is expensive, but it pales in comparison with copper cookware! This Made in Cookware Stainless Steel Set and Viking Culinary Hammered Copper Cookware are around the same price, but if you venture into French brands like Mauviel, then you can expect to pay at least double.
For me, the best way to invest your money is to buy clad cookware like this All-Clad Set. It uses a copper core that is sandwiched between layers of stainless steel. This way, the copper has no contact with the food, but you get to enjoy its wonderful heating abilities.
What Should You Look For in a Good Copper Pan?
A good copper pan should have a durable layer of stainless steel on the interior that prevents the food from coming into contact with the copper. The ideal pan thickness is 2.5-3mm for a good balance between durability and heat conductivity.
If you're looking for recommendations, check out this product round-up for the best options on the market.
What Should You Look For in Good Stainless Steel Cookware?
When shopping for stainless steel cookware, always check the grade first. High-quality, long-lasting stainless steel cookware will be made from 304, 18/10, or 18/8 grade stainless steel. Then, I would consider thickness. Ideally, the pan should be 3mm thick. This is durable yet not too heavy to use. Finally, look for a pan that is 3-ply, instead of impact-bonded.
I've written an entire article on what to look for in good stainless steel if you want to go into this topic in more detail.
What Kind of Pans Do Professional Chefs Use?
While copper cookware came to prominence in professional kitchens, today you'll rarely find it being used outside of high-end French restaurants – and even then it's used for specific dishes. This is because it's very expensive and easy to dent and damage.
Most chefs nowadays use stainless steel because it's more durable and lasts longer. Pans get really beaten up in professional settings, so chefs value equipment that is reliable even after years of hard wear.
Conclusion
Stainless steel and copper cookware are two time-tested cookware materials. If you want a versatile and durable option, stainless steel is the cookware for you. But if you want stunning beauty and precise temperature control, copper will be more your style. That said, these two materials perform at their very best when crafted together in the same pan.
As always, if you have any questions, don't hesitate to drop them below.
We are sorry that this post was not useful for you!
Let us improve this post!
Tell us how we can improve this post?