Stainless steel cookware is a super durable choice that just about all of us have in our kitchens. But did you know it leaches small amounts of chromium and nickel into your food?
A little nickel is harmless to the average person, but it's a different story for those with nickel sensitivities or allergies. Eating food cooked out of the wrong cookware can cause painful reactions for these individuals, so, if that's you, choosing nickel-free pots and pans is very important.
In this article, I'm going to explain precisely why nickel leaching can be an issue and provide you with some high-quality, nickel free stainless steel cookware options.
Do They Make Stainless Steel Cookware Without Nickel?
If contact with the nickel in stainless steel is a health issue for some people, why do they use it in cookware in the first place? Well, it turns out it has a pretty important job in stainless steel pans!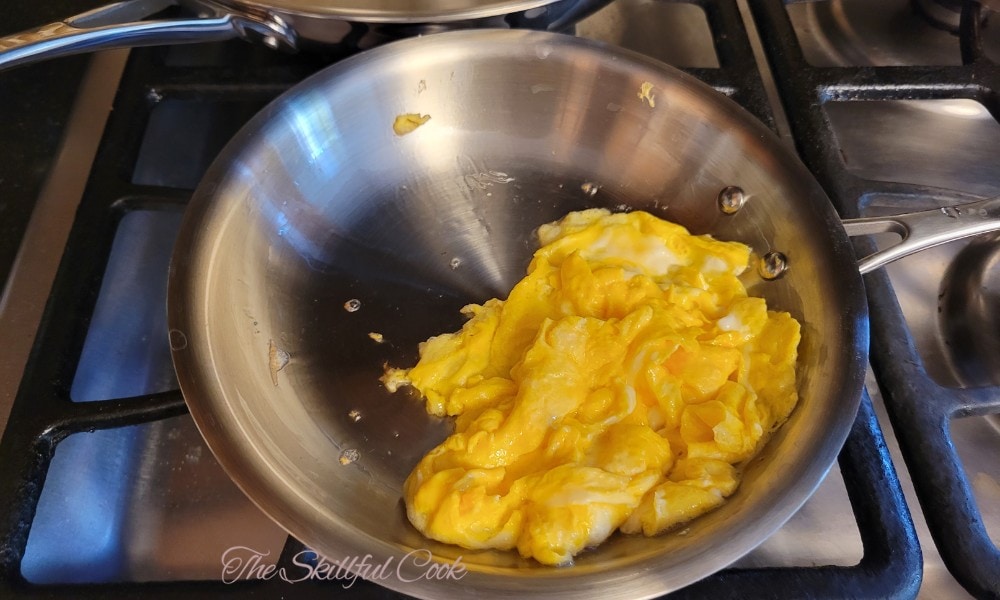 Stainless steel is an alloy made from iron and additional metals like chromium, nickel, and sometimes manganese. Nickel plays a significant role in the level of corrosion resistance of stainless steel.
It strengthens the layer of chromium oxide that forms on the outer layer of stainless steel, increasing its resistance to corrosive elements like salt, sulfuric acid, and phosphoric acid. It improves heat resistance and increases the durability of stainless steel by stabilizing its austenitic structure.
It's hard to find stainless steel cookware without nickel because it will be less corrosion-resistant and durable and won't last as long.
Unfortunately, this nickel-containing layer of steel comes into direct contact with your food, so some nickel is leached into your food during cooking. This, as we've said, can cause issues for people with nickel allergies.
There are very few brands available in the United States that sell nickel-free stainless steel cookware.
Good heat conduction

Dishwasher safe

Metal utensil safe
Here are our specific product recommendations.
Pieces included: 1.5-qt saucepan, 2.5-qt saucepan, 8-qt stock pot, 8" frying pan, 9.5" saute pan, skimmer, pasta fork, solid spoon, ladle, masher.
Colors available: Mirror-polished silver
This HOMICHEF 14-pc Nickel-Free Cookware Set promises nontoxic cooking with no leaching nickel or nonstick coating.
This set has every pan you need for various cooking techniques, all without having to worry about the nickel content. The base of the pans is made from 3-ply stainless steel, so the pan heats quickly. However, the sides are much thinner and feel a little flimsy. I feel like if I knocked these pans around, they would dent quite easily. But if you buy these knowing this, I'm sure you can keep in mind to treat them gently. I will go into more detail about the stock pot and frying pan in their own reviews below.
I really like that this set comes with utensils. Knowing that the stainless steel utensils are nickel-free and safe to use on the cookware is great for peace of mind! I recommend this set for young couples or people just starting out in their first apartment.
Pros
👍 Metal utensil safe
👍 Affordable
👍 Dishwasher safe
Cons
👎 Prone to corrosion
👎 Food stored in a pan develops a metallic aftertaste.
👎 Flimsy sides
---
Meyer Select Sauteuse– The Best Stainless Steel Saute Pan Without Nickel
Colors available: Matte silver
Size: 5-qt
This Meyer Select Nickel-Free Saute Pan is a great all-purpose pan from an Indian-based brand. At the moment, this and the Kadai are the only pans available in the US, but the brand has an extensive range of nickel-free stainless steel cookware available overseas.
This pan heats really quickly because its base has a thick aluminum core sandwiched between two layers of nickel-free stainless steel. It's compatible with all cooktops, which is super convenient. One gripe I have is the handles. I like that there are two made from stay-cool stainless steel, but I wish one of them were long. I find a long handle makes handling and moving food around much easier.
This brand has a 10-year warranty on its cookware, which indicates that this pan should last longer than your average nickel-free cookware. But, I have not found any English reviews confirming or denying this lifespan.
Pros
👍 Dishwasher safe
👍 Suitable for all cooktops
👍 Metal utensil safe
Cons
👎 Only 3-ply on the base
👎 Only pan option in the US
👎 No long handle
---
HOMICHEF 8" Frying Pan– The Best Stainless Steel Skillet Without Nickel
Colors available:

Mirror-polished silver

Size:

8"

Material:

18/0 stainless steel exterior, 21/0 stainless steel
Frying pans are one of the most used pans in many households, so finding a nickel-free version is key. This HOMICHEF 8" Frying Pan is the only nickel-free pan of its size available in the USA at the time of writing.
With its 3-ply base, this frying pan works just as well as a regular stainless steel frying pan. However, I will say that I appreciate how affordable this pan is. As we know, nickel-free pans don't last as long as other pans, so I don't want to spend a fortune on a pan I'll need to replace in a few years.
Personally, when it comes to frying pans, I prefer a nonstick option over stainless steel because of how much easier cooking and cleanup is. If you want to stick to the most non-toxic cookware possible without metal leaching, I recommend checking out a ceramic nonstick option like this GreenPan frying pan. These pans are also less prone to corrosion.
Pros
👍 Good heat conduction
👍 Dishwasher safe
👍 Metal utensil safe
Cons
👎 No lid
👎 Prone to rust
👎 Not as effective as non-stick
---
Colors available: Matte silver
Size: 3.9-qt
If you want a nickel-free pot that is more on the luxury side and has a chance at lasting for generations, check out the Solidteknics noni Dutch Oven.
This pot is made from ferritic stainless steel cast in one piece to make it more durable. This is not only nickel-free but also a great heat conductor. This makes it function more efficiently than regular stainless steel. Fast heating and nickel-free? That's a win-win!
Unfortunately, Solidteknics pans can be hard to get hold of. The product range is broad, but availability is limited – so if you get a chance to own this cookware, I would act quickly! I know this brand is very expensive, but because they are cast in one piece, made of top-quality material, and manufactured in the US (Chicago), the Solidteknics pots are far more durable than their competitors. This means you can cook with nickel-free stainless steel without having to replace them every few years.
Pros
👍 More durable than competitors
👍 "Multi-generation" warranty
👍 Compatible with all stovetops
Cons
👎 Expensive
👎 Can't see through the lid
👎 Hard to get hold of
---
HOMICHEF 6-qt Stock Pot – The Best Stainless Steel Stock Pot Without Nickel
Colors available: Mirror-polished silver
Size: 6-qt
Stainless steel is my go-to for a good stock pot, especially for boiling pasta, so I was excited to find this nickel-free HOMICHEF 6-qt Stock Pot. I don't mind stock pots not having a nonstick coating; I'm more focused on the quick heating abilities for boiling pasta and making soup. This 3-ply stock pot manages to meet that criteria perfectly. It's also very affordable for the size.
All the HOMICHEF pieces mentioned have a 6-year warranty, which is impressive for this corrosion-prone metal. But after digging through some reviews, I feel like this warranty is not an indication of how long these pots last. With all nickel-free cookware, you need to go in knowing that you will need to replace this pan in a few years.
Pros
👍 Quick boiling
👍 Affordable
👍 Induction compatible
Cons
👎 Short lifespan
👎 Thin sides
👎 Prone to corrosion
---
How Do You Tell if Stainless Steel Pans Contain Nickel?
If your cookware is nickel-free, it will almost certainly be marked on the packaging of your pan. So few nickel-free pots and pans are made that, if the product is nickel-free, the manufacturers lean on that fact in their advertising. But you can also find out if it's nickel-free by looking up the stainless steel grade.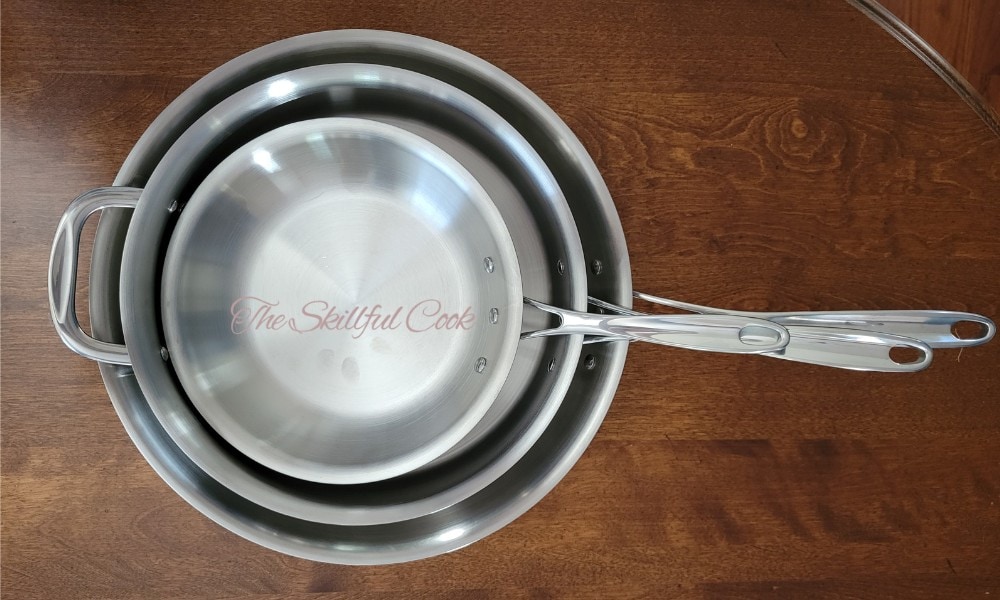 Food-grade stainless steel is divided into the 200, 300, and 400 series. These series are further broken down into grades like 18/10, 18/8, 18/0, and 21/0. The first number indicates the percentage of chromium, while the second number indicates the percentage of nickel. Nickel-free stainless steel cookware is made from predominantly 18/0 and 21/0 stainless steel from the 430 series.
Be careful to confirm that the interior stainless steel is nickel-free. Many pans will have regular stainless steel inside the pans with nickel-free stainless steel on the outside only.
Is Stainless Steel Cookware with Nickel Bad for You?
The answer to this question really depends on who is eating the food from the stainless steel. The average person can use stainless steel with nickel and not have any effects, immediate or long-term. But it's a different story for a person with a nickel allergy.
Nickel is a natural element that can be found in soil, water, plants, and animals. This means that most adults will consume a small amount of nickel through their diet every day.
The FDA has approved a Tolerable Upper Intake Level of 1000 micrograms of nickel per day. Stainless steel cookware needs to be tested to prove it has safe levels of leachable nickel and chromium, as determined by the FDA.
A study by J Agric Food Chem shows that cooking food in stainless steel cookware could add 69-162 micrograms of nickel per day to an adult's diet. This is well below the recommended maximum daily intake. But a study by the Department of Environmental and Molecular Toxicology shows that nickel leaching decreases after 6-7 uses, so these quantities are likely even lower in older stainless steel cookware.
Even though these nickel levels are so low, they can still pose a risk for anyone with a nickel allergy.
A dose of nickel as small as 67 micrograms can cause allergic contact dermatitis (ACD), eczema flare-ups, and systematic dermatitis in those with nickel sensitivities.
This is why these individuals need to use nickel-free stainless steel or an alternative cookware material.
Check out our extensive article on the safety of stainless steel cookware for more information.
What is Ferritic Stainless Steel Cookware?
Ferritic stainless steel cookware is made from a durable, non-reactive stainless steel alloy primarily composed of iron and chromium, with little to no nickel content. It is magnetic, so it's suitable for use with induction cooktops, providing reliable performance for a wide range of dishes.
"Ferritic Steel" cookware isn't guaranteed to be nickel-free, but if you see this term, it's a clue that the pans will either contain very little nickel or none at all.
What Are the Best Alternatives to Stainless Steel Cookware?
Since nickel-free stainless steel is prone to corrosion, it won't last as long as other stainless steel products. So you may choose to, instead, go with another completely nickel-free material that is more durable. Here are a few alternatives made from other materials that contain no nickel.
Lodge Cast Iron Skillet
I am a sucker for this Lodge Cast Iron Skillet; I recommend it to people constantly! Cast iron will leach some iron, but the levels are low if you keep it seasoned. Unlike nickel-free stainless steel, this pan will last you a lifetime. You could even pass it down in your family; it's that durable.
Limited Time Offer!
Lodge Cast Iron Skillet
✅ PFOA & PTFE free material
✅ Induction compatible
✅ Unparalleled heat retention
✅ All cooktops compatible
GreenPan Valencia Pro Ceramic Nonstick Set
This GreenPan Hard Anodized Ceramic Nonstick set is a great alternative to stainless steel because it won't leach any metals as long as you are gentle on the coating. The Thermolon non-stick is reinforced with diamonds, so it's more durable than many PTFE competitors. These pans also provide better heat conduction than a lot of stainless steel pans, since the substrate is aluminum.
Made In Cookware Carbon Steel Skillet
Carbon steel is a great, non-toxic cookware material that has even better heat retention than stainless steel. This Made In Carbon Steel Skillet heats up really quickly and has excellent heat retention like cast iron, but it's lightweight, like stainless steel. Carbon steel can also be seasoned to create a chemical-free nonstick coating.
Summary
As you can see, nickel-free stainless steel cookware is hard to come by. Luckily, HOMICHEF has an extensive range to suit just about every cooking need without any of the risks. Other than the HOMICHEF range, the Meyer Select Nickel-Free Saute Pan is another solid choice. If you want a nickel-free pan that will last more than a few years, you should invest in a Solidteknics pan.
We are sorry that this post was not useful for you!
Let us improve this post!
Tell us how we can improve this post?