I love my induction cooktop because I can control the heat precisely and save energy at the same time – but the downside is that not all cookware works on it. That's why, once I invested in an induction cooktop, I went on the hunt for the perfect cookware to use on it.
The cast iron skillet was my go-to pan in my pre-induction days – but I didn't want to risk it scratching my new cooktop. That's when I discovered carbon steel!
In this article, I'm going to explain how induction cooktops work so you know what makes a pan induction compatible. Then, I'll share some tips for cooking on induction cooktops with carbon steel, my new favorite pan.
Does Carbon Steel Work on Induction?
Carbon steel can be used on induction cooktops because it's a magnetic metal. Induction cooktops only work if the pot or pan contains iron – and carbon steel is 98-99% iron. Lighter weight than cast iron, it's better for induction because its smooth flat base makes good contact with the cooktop without damaging it. However, these pans should be heated gradually to prevent warping.
Induction Cooktops and Iron Cookware
Let's take a look at how induction cooking works and how it's different from traditional cooking. Regular electric stovetops heat a coil, which, in turn, heats the pan. Induction takes out the middleman to make the whole process more energy efficient.
Induction cooktops use an electromagnetic field, creating friction forces that directly heat the pan and not the cooktop. The burner could be on full power, but it wouldn't get hot until the pan makes contact with it. This means that once you remove the pan from the surface, the residual heat dissipates swiftly.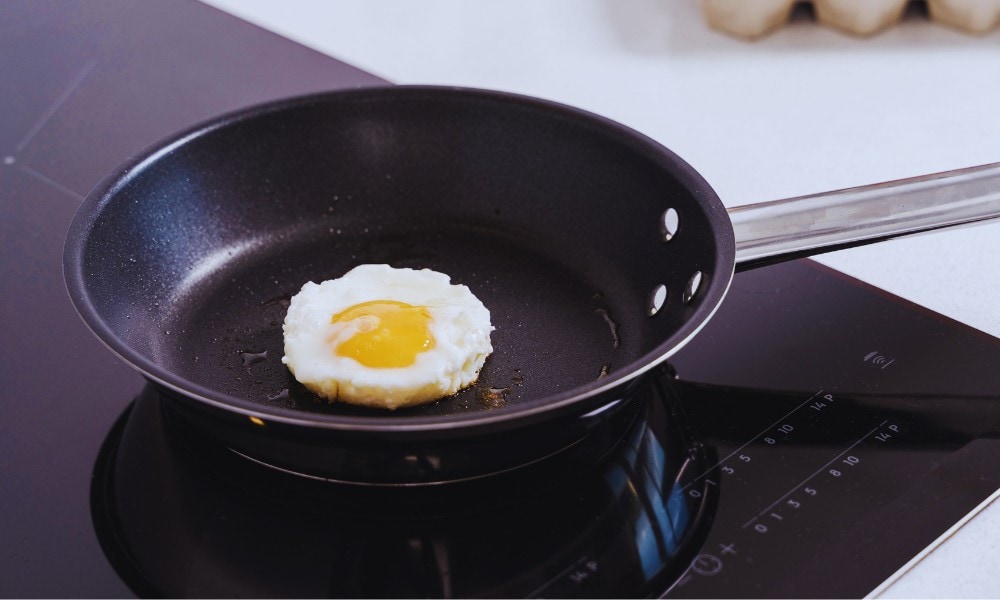 So, since induction cooktops use electromagnetic fields, it's key that the pan material is magnetic and can complete the circuit. This means the pan needs to be ferritic or contain iron. This makes carbon steel, which is mostly iron, perfect for these cooktops – along with stainless steel and cast iron. Some nonmagnetic pans – such as nonstick aluminum ones – are made to be induction-compatible with a stainless steel plate fixed onto the base.
Tips and Cautions for Using Carbon Steel Pans on Induction Cooktops
So, while carbon steel heats phenomenally on induction due to its iron content, there's still a learning curve to using it efficiently. Here are some pros and cons, plus my best tips for cooking with carbon steel on induction:
Advantages of Using Carbon Steel on Induction
Since kissing my cast iron goodbye, I've found that carbon steel is a wonderful alternative that behaves very similarly.
Carbon steel is thin and lightweight but surprisingly durable. The best quality pans are around 2.5mm thick because they have the perfect balance of sturdiness and quick heat distribution. They're heavy enough to sit solidly on the cooktop but are significantly lighter than cast iron. The bottom surface of a carbon steel pan is smooth, so it won't scratch your cooktop like heavy cast iron will.
While carbon steel can handle high heat if brought up to temperature gradually, I recommend cooking on your medium to low setting for the pan to function at its best.
Precautions to Take Carbon Steel on Induction
I totally 100% recommend using carbon steel on induction, but there are a few things you need to keep in mind before you dive in.
Warping and Thermal Shock
Did you know that cast iron pans have cracked in half on induction cooktops? Carbon steel is less brittle, so less likely to suffer the same fate. But it is at risk of warping if heated too quickly. Warped or dented cookware can't connect strongly with the cooktop, which will cause hot spots and uneven cooking. Always bring your carbon steel up to temperature slowly, giving the metal time to adapt.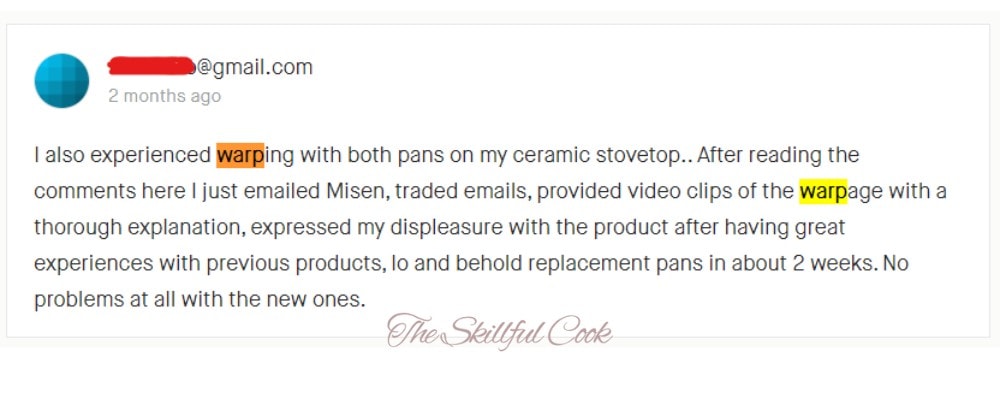 Cooktop Overheating
If you're used to stainless steel or adapted aluminum pans on induction, then you know that the cooktop cools down almost immediately after the pan is removed; carbon steel is slightly different. When carbon steel gets very hot, it can transfer heat back to the glass surface of the induction. The surface will feel hot to the touch for longer than usual, so be careful not to touch it.
Since the induction burner only heats the pan where it is in contact with the surface, it's key to use a pan that fits the burner's size. If you place a large pan on a small burner, the center of the pan will heat normally while the edges remain cold. This can cause uneven cooking.
Residue and Stains
One last issue that some have is the sticky residue left behind from seasoning your pan, messing up your glass induction cooktop. Carbon steel needs to be seasoned to maintain its nonstick surface after each use. But, in my eyes, if you do this neatly, you shouldn't have any issues.
When you're seasoning, concentrate the oil on the interior of the pan and wipe up any drips that make their way down the sides so they don't have time to build up into a sticky residue.
The Best Carbon Steel Pans for an Induction Cooktop
Even looking at the precautions involved, it's clear that carbon steel is one of the best materials for induction. But I also need to mention that stainless steel is a close second. It's also a magnetic material, so it functions well on an induction cooktop.
Here are a few pans that I think are perfect for using on induction:
Misen Pre-Seasoned Carbon Steel Frying Pan
This Misen Pre Seasoned Carbon Steel Frying Pan is the perfect multipurpose pan that works seamlessly on an induction burner. The pan is nonstick out of the box because it's preseasoned, but this pan does require some maintenance. But, in my eyes, this is worth it because of its precision heat control and versatility. The brand offers 8-12 inch size options so you can pick the ideal size for your household.
Misen is a newer brand on the scene, so if you're curious, we have a full review and test for you to get to know the brand better. 
Yokusata Carbon Steel Wok
Carbon steel is synonymous with woks because it heats so quickly and retains that heat so well, so I would be remiss to leave one out of my carbon steel recommendations.
I particularly recommend flat-bottomed woks for inductions like this Yokusata Carbon Steel Wok. The round-bottomed varieties are technically induction-compatible, but it's hard to establish a good connection with the burner. This wok is well-balanced and makes a solid connection as long as you don't move it around too much. The heat is evenly distributed up the sides, so you can stir fry as usual.
Made in Cookware Stainless Steel Cookware Set
If you prefer a material that requires less maintenance, then I recommend going with a stainless steel set like the Made In Stainless Steel Cookware Set.
These pans are incredibly durable and less prone to denting and warping than carbon steel. The exterior of the pan is lined in nickel-free stainless steel that is magnetic and works well on an induction. The 5-ply clad design features an aluminum core that makes these pans fast-heating with great heat retention that rivals carbon steel.
FAQ
What is the best metal pan for induction cooktops?
For me, the best metal pan for induction is either carbon steel or stainless steel. Both are ferritic metals that function well on an induction. They are also well weighted, so the pans maintain a strong connection on the burner. Cast iron is also a good option, but it is heavy and can damage the cooktop if you're not careful.  
Will carbon steel pans warp on induction?
If you aren't careful, your carbon steel pan can warp on induction. This happens when you heat your pan too quickly or cook with the heat too high. If you warm your pan slowly on medium-low heat and don't cook on high, your pan should be safe.
What materials can't be used on induction?
Any metal that is not magnetic will not work on an induction burner. So ceramic and stoneware are out. Aluminum isn't induction-compatible, either. But many aluminum pans will be specially designed with a ring of stainless steel in the base to make it work on the induction.
Conclusion
Now that we've discovered the secret behind inductions, it's pretty obvious that carbon steel is the ideal material to pair with them.
Overall, I would recommend the Misen Carbon Steel Frying Pan as the ideal multi-use pan for an induction cooktop.
What are some of your favorite carbon steel pans? Be sure to leave your own recommendations and any questions down below. 
We are sorry that this post was not useful for you!
Let us improve this post!
Tell us how we can improve this post?