Stainless steel cookware is a costly investment – so you don't want to neglect to maintain it. Using the right spoon or spatula to use is a crucial component of stainless steel care.
Cooking utensils can be made from metal, plastic/nylon, silicone, wood, and/or bamboo. Each of these materials may be better or worse for different pan types. Today we are going to investigate whether or not they will work in harmony with stainless steel.
This article surveys eight of the best cooking utensils for stainless steel cookware.
What are the Best Utensils for Stainless Steel Cookware?
Stainless steel cookware can be regular nickel-plated stainless steel or have a nonstick coating. Regular bare steel is very hardy, so you can use rust-proof steel utensils on stainless steel pans, as well as wood, bamboo, plastic/nylon, and silicone.
For stainless steel pans with a nonstick coating, though, you should stay far away from metal utensils or wood ones that can scratch the coating.
My number one pick for ANY stainless steel pan is the Get It Right Premium Silicone Spatula. It's versatile, nontoxic, and works gently on all forms of stainless steel to retain its surface.
| | |
| --- | --- |
| Star Rating | 4.5 ⭐ |
| Material | Silicone |
| Type | Spatula |
| Uses | Folding, stirring, scraping down |
My favorite utensil for stainless steel is the GIR Silicone Spatula. Silicone is by far one of my favorite cooking materials because it's non-toxic and easy to clean. It's made all in one piece so there's no risk of the head falling off the handle or any crud or bacteria getting into the nooks and crannies.
What I love most about this spatula is how versatile it is. Making sauce in a saute pan? You can use this spatula to stir and cleanly scrape down the sides. Want to whip up a delicate sponge cake? This is perfect to fold in the ingredients effectively! You can use this for so many applications that it'll pay for itself in just a few uses.
Pros:
Affordable
BPA-free
Dishwasher safe
Withstands heat up to 550 F
Cons:
| | |
| --- | --- |
| Star Rating | 4.5 ⭐ |
| Material | Nylon with stainless steel handles |
| Type | Two sizes of turner, slotted turner, slotted spoon, serving spoon, ladle |
| Uses | Multiuse |
This Anolon Nylon Utensil Set is a great affordable set to fit out your kitchen. This set also makes a great bridal shower gift, since it's suitable to be used on stainless steel or any of your other cookware for that matter!
Nylon is great for gently sliding under eggs or pancakes, and scraping the sides of a bowl. It is perfectly safe for non-stick coatings or regular stainless steel pans.
The main factor that customers rave about is the SureGrip handles. They are designed to be comfortable to hold and stay cool throughout the whole cooking process.
The one complaint I have about this set is the selection of tools. Instead of having two turners, I would have preferred a pastry brush, spaghetti spoon, or tongs to make the set even more multi-use.
Just don't use this set for VERY high-heat cooking like stir-frying. It will melt at temperatures above 450F. (Use this metal wok spatula instead!)
Pros:
BPA-free
Dishwasher safe
Affordable
Cons:
Not enough variety in utensils
Can melt at high temperatures (over 450 F)
| | |
| --- | --- |
| Star Rating | 4.5 ⭐ |
| Material | 304 food-grade stainless steel |
| Type | Spaghetti spoon, 2 solid serving spoons, one slotted spoon, one solid turner, one slotted turner, ladle. |
| Uses | Multiuse |
Stainless steel utensils are should last forever if you wash them correctly and take care of them. They won't melt like nylon, tear like silicone, or break like bamboo. The downside is that they will scratch nonstick or ceramic coatings.
Luckily, using stainless steel utensils on a stainless steel pan (or carbon steel) is perfectly safe because of how strong both surfaces are. This Standcn set is very versatile because it has just about every utensil you'll need. This is perfect if you have just moved out of the house and you want to get every utensil at once. I especially like the inclusion of the spaghetti spoon because I make a lot of pasta in my big stainless steel pot.
Pros:
Rustproof
Withstands high heat
Durable
All necessary utensils in one set
Cons:
May scratch the surface of your cookware
| | |
| --- | --- |
| Star Rating | 4.5 ⭐ |
| Material | Silicone with stainless steel handles |
| Type | Solid turner, large slotted turner, spatula, pasta server, slotted spoon, soup ladle, whisk, tongs, slotted turner, spoon, skimmer |
| Uses | Multiuse |
This BEDBOLDF Silicone Utensil Set is your one-stop shop for every utensil you could possibly need in one set. It even includes a whisk and tongs! These often get left out of utensil sets but I find myself reaching for these on the regular. The whole set is made from durable silicone with sturdy stainless steel handles that are rustproof and they won't get hot and burn your fingers.
Customers rave about how well these utensils hold up even with everyday use and how simple they are to clean. I would also add that these utensils are gentle enough to use on stainless steel and every other cookware surface, even those with delicate nonstick coatings. So if you have other pans in addition to your stainless steel set then you can use these silicone utensils on those too to save you some cash.
Pros:
Safe for all cookware surfaces
Heat resistant
Dishwasher safe
Affordable
Cons:
Lots of pieces in one set, so not great for small spaces
| | |
| --- | --- |
| Star Rating | 4.5 ⭐ |
| Material | Silicone |
| Type | Slotted spoon and serving spoon |
| Uses | Stirring, serving, draining pasta |
The DI ORO Silicone Spoon Set is the perfect pair to equip your kitchen. I use the slotted spoon for pasta and blanching veggies, and the solid spoon for batters and sauces.
One of my most used utensils is a big serving spoon. But because it has so many applications, it's important to buy one that can withstand this use. This set is made from easy-to-clean silicone that is very hardwearing but also very gentle on cookware. The heat-resistant handle makes these spoons very easy to use.
Pros:
BPA free
Dishwasher safe
Heat resistant up to 600 F
Cons:
| | |
| --- | --- |
| Star Rating | 4.0 ⭐ |
| Material | Stainless steel blade and wooden handle |
| Type | Turner |
| Uses | Turning food, removing it from the pan |
The Winco Blade Hamburger Turner may look super basic but it's got everything you need in a great turner. The wide blade has fine, beveled edges on three sides that make getting under your food really easy. It may be called a hamburger turner but you can use this tool for any turning needs; I find it particularly good for steak and eggs.
Since this is metal, it's only safe for uncoated stainless steel and not nonstick surfaces. But I also like using it on the grill for, as the same suggests, flipping hamburgers! The entire flipper is so sturdy and well-made that you'll be using it for years!
Pros:
Affordable.
Effective beveled edges.
Cool-touch handle.
Cons:
Not suitable for nonstick.
Not rustproof.
| | |
| --- | --- |
| Star Rating | 4.5 ⭐ |
| Material | Stainless steel |
| Type | Whisk |
| Uses | Whipping cream etc for desserts, getting lumps out of sauces |
The best whisk for stainless steel cookware is the Oxo Goodgrips Balloon Whisk. It's stainless steel, so it's best used in uncoated pans and bowls.
Personally, I really dislike silicone whisks. I know they're suitable for every surface but they are flimsy and can't handle thicker mixtures. That's why I prefer a sturdy option like this one. I can use it to whip up some light cream or whisk the lumps out the thickest gravy. This whisk can handle it all.
Pros:
Sturdy
Versatile
Dishwasher safe
Comfortable, nonstick handle
Cons:
Not suitable for nonstick
| | |
| --- | --- |
| Star Rating | 4.5 ⭐ |
| Material | Beechwood |
| Type | Spoon |
| Uses | Stirring, scraping sides |
I don't know about you, but it drives me crazy having to use multiple utensils for a dish that I'm going to have to clean up later. The Le Creuset Revolution Scraping Spoon is a multi-use utensil that solves some of these problems. It is shaped like a regular wooden spoon that can be used for stirring but it has a flat, square edge. This edge lets you scrape down the edges of pots and pans without damaging the pan. This feature makes cooking just that little bit more seamless.
If you're shopping at Le Creuset anyways, you won't regret popping one of these in your basket!
Pros:
Odor and stain resistant
Gentle
Multi-use
Cons:
Expensive
Not dishwasher safe
Quality Utensils for Stainless Steel Cookware – A Buyer's Guide
When buying utensils you not only have to take into consideration the material of your cookware –stainless steel in this case – but also the material of the utensils themselves. Metal wood, bamboo, silicone, and plastic all have unique properties that interact with stainless steel in different ways.
Let's start by taking a look at the kinds of stainless steel pans you could be working with:
Types of Stainless Steel Cookware
Stainless steel cookware falls into two main categories: regular and nonstick. Let's have a look at the difference between the two and how that affects which utensils we use.
Regular Stainless Steel
Regular or raw stainless steel is steel enriched with chromium and nickel. This combination is nonreactive and incredibly durable, which is why so many people choose it as a long-lasting cooking material. Food-grade stainless steel has a range of metal ratios, but most pans are made of "300 series" grade stainless steel.
Raw stainless steel isn't naturally nonstick. While that may sound like a negative point, it means it can hold up to serious cooking! It doesn't have a protective coating on it to get damaged by the wrong utensils. The uncoated surface is strong and very difficult to damage so you can use all types of utensils on regular stainless steel, even metal ones! The only thing you need to be wary of is scratching it with a stainless steel brush.
Nonstick Stainless Steel
Nonstick stainless steel might seem like the best of both worlds but there are a few concerns with it. Most nonstick stainless steel uses PTFE-based coatings. At high temperatures, PTFE can release harmful fumes so many consumers are leaning towards PTFE-free nonstick cookware.
If your stainless steel is coated in Teflon or another PTFE-based material, you will not be able to use metal utensils on them at all. Nonstick cookware without Teflon (such as ceramic) varies in its durability, so you will need to investigate whether or not it can handle metal utensils. But wood, bamboo, silicone, and plastic are all gentle enough to use on any nonstick coating – as long as you are careful to not abuse it.
Materials for Cooking Utensils
As you can probably see from my recommended products, there are a lot of options when it comes to utensils materials. Let's take a look at each one a little more closely:
Wood – A classic utensil material, wood is an eco-friendly material that is nontoxic and affordable. Since wooden utensils are so gentle, they are suitable for all cookware. A downside to this material is it is porous, meaning it is prone to staining and is not dishwasher safe. It can also burn if you leave it against the side of a hot pan.
Bamboo – This material has become popular for anything from clothing to cooking utensils because it's so versatile and one of the most eco-friendly materials on the market right now. Unlike wood, bamboo is stain resistant. But, like wood, it is not dishwasher safe.
Metal or Steel – Even though steel is probably the most durable utensil material, it is also the least versatile. It is strong and non-toxic but can easily scratch cookware, especially those with delicate nonstick coatings.
Silicone – This is probably my favorite utensil material because it's flexible, easy to clean, and it's usually available in a bunch of fun colors. It's not the most eco-friendly material but it is very gentle so it's safe to use on any cookware. It's stronger than nylon or other plastics. It's also dishwasher-safe.
Plastic/Nylon – This is probably the most common utensil material because it's affordable and dishwasher-safe, but it does have drawbacks. Nylon is flexible and easy to use, but it can melt at high heat and leech chemicals into your food.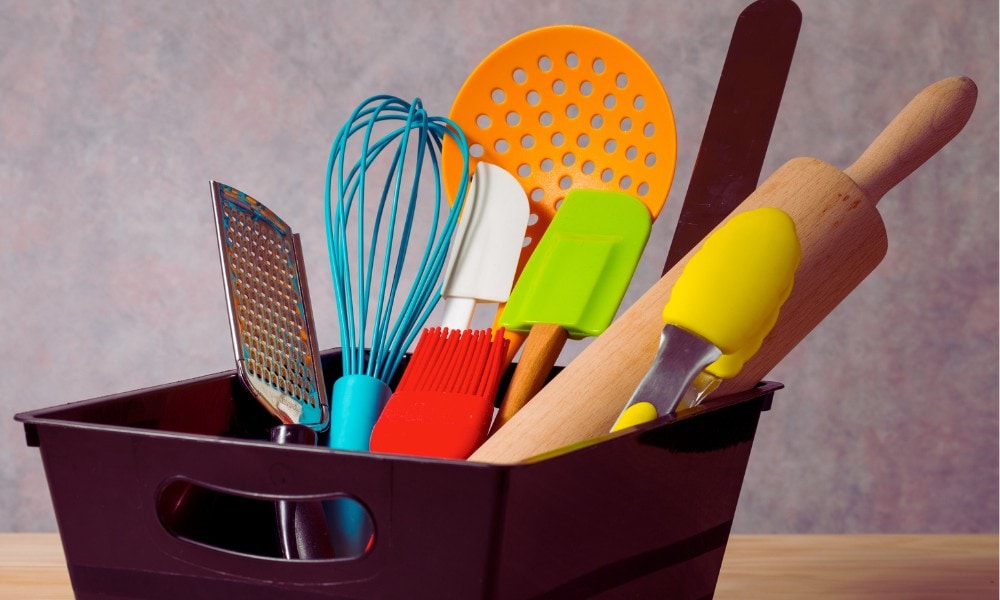 Your Cooking Style
The way you cook and the cuisine you cook is going to determine which utensils are the most useful to you. For example, you may never egg wash pastry or cook up meat that needs basting — so a pastry brush would be a useless purchase for you.
My suggestion is to either buy a set of only utensils you know you will use or buy each utensil separately so you're not left with useless utensils taking up space in your drawers.
Construction, Durability, and Longevity
Whenever I buy a utensil, I want to feel like I'm never going to buy another one of that kind ever again. Since utensils aren't drastically expensive, it's easier to buy a solidly made one without breaking the bank.
I particularly like utensils made of wood and silicone because they are usually made in one piece. This makes them less likely to break or collect bacteria or crumbs in the handles. But it's hard to ignore that metal utensils are generally the most durable. Luckily each of these are safe to use on regular stainless steel.
Ease of Use and Cleaning
No one wants to spend their evening scrubbing utensils after dinner, so ease of cleaning is very important. I gravitate towards utensils that are dishwasher safe to save me as much time as possible.
Always be careful to check whether your new utensils are dishwasher safe before you wash them so you don't damage them or cause rusting.
If you do use silicone, make sure it's food-grade silicone.
Frequently Asked Questions
Can you use metal on stainless steel cookware?
You can use metal on stainless steel. However, take caution as harder metals can potentially scratch or mar the surface. It's best to use softer metals or specific tools designed for use with stainless steel to maintain its pristine condition.
Is stainless steel cookware safe?
Yes, stainless steel is safe to cook with because the surface is nonreactive and doesn't have any coatings if it's not nonstick. As I mentioned above, the steel is made with cadmium and nickel, which creates a durable surface that is nontoxic and won't leech any harmful chemicals into your food. It does leech some metal during the first several uses, but most studies say that the amount of metal transfer decreases quickly with use.
What spatula to use with stainless steel pans?
I prefer to use silicone spatulas with stainless steel. Silicone has the same flexibility as plastic or nylon, but it can melt at high heat, and is more likely to contain toxic chemicals that can leech into your food. Stainless steel spatulas are safe to use on raw stainless steel pans, but they aren't as versatile as silicone.
Will plastic utensils melt?
Polystyrene plastic utensils melt at 212-248 F. Nylon melts at about 400F. This means that, if your pan gets very hot, you risk your plastic utensil melting, cracking, or chipping. 
Summary
Stainless steel is an incredibly durable cookware material that can withstand every kind of utensil with minimal damage – as long as it's raw stainless steel without a non-stick coating. My top two utensils for stainless steel are the Get It Right Premium Silicone Spatula and the Oxo GoodGrips Balloon Whisk.