When my brother asked me, 'Why so many raspberry dishes lately?' I had to explain that I'm making the most of the very short window of time we get to have fresh raspberries!
And, when it comes to raspberries, I'm always on the look out for the best way to show-case them. And, what better way than in a cake!
I'm sure I've said it before, but of all the fancy schmancy cakes out there, the simple sponge, with seasonal fruit and lashings of fresh cream and fruit, is ALWAYS my favourite. Paired with a cup of tea and I'm a happy girl.
So, when I saw this delightful cake recipe with its combination of raspberry and rose (you don't have to go very far into my blog to see that I'm just a tiny bit obsessed with rose flavouring), I was in like Flynn.
Thanks to BBC Good Food.com for this delectable recipe. It was incredibly simple to make and pretty quick too. I loved the contrast between the tart raspberries, the floral rose water and the sweet icing which I flavoured (and coloured) with freeze-dried raspberry powder. And the softly whipped fresh cream, with its gently folded through rivulets of raspberry jam, provided the perfect amount of moisture.
There really isn't much else to say about this cake, except that I would happily eat it every day of the week if I could get away with it! Enjoy!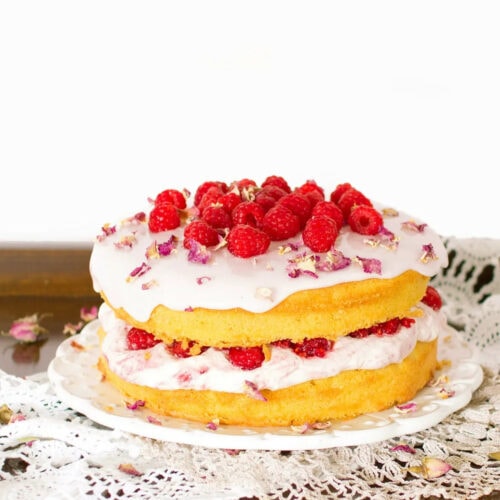 RASPBERRY & ROSE SPONGE CAKE
Ingredients
For the sponge cakes:
7.9

oz

unsalted butter, softened, plus extra for greasing

7.9

oz

golden caster sugar

4

medium eggs, beaten

1

tsp

vanilla extract

7.9

oz

self-raising flour, sifted (or use regular flour with 2 tsp baking powder)
For the rose cream filling:
5

fl oz double cream

1

tsp

rose water

4

tbsp

raspberry jam, you can sieve it to remove seeds if you like

5.2

oz

raspberries, slightly crushed
For the rose icing:
6.1

oz

icing sugar (confectioner's sugar), plus extra for dusting

1/2

tsp

rose water

A drop or two of pink food colouring, or a little freeze dried raspberry powder (which I used)
To decorate:
Dried rose petals

Handful raspberries
Instructions
For the cakes:
Heat oven to 180C (360F). Lightly grease two 20cm cake tins and line with baking parchment.

In a large mixing bowl, beat the butter and sugar together until pale and fluffy. Gradually add the eggs a little at a time, scraping down the side of the bowl after each addition. If the mixture starts to curdle, add 1 tsp flour. Add the vanilla extract, mix in half the flour, then fold in the rest.

Divide the mixture between the cake tins and bake for 20-25 mins – a skewer inserted into the middle of the cakes should come out clean. Leave to cool in the tins for 10 mins, then turn out onto a wire rack to cool completely.
For the filling:
Whisk the cream to soft peaks, adding the rosewater as you go, then fold in the jam, being careful not to over-mix.

Place one of the sponges on a serving plate and top with the cream mixture. Scatter with the raspberries, then top with the other sponge.
For the icing:
Mix together the icing sugar, 2 tbsp water and the rosewater, and stir in the food colouring or freeze dried raspberry powder (so as not to overdo the colour, add tiny amounts to start with). Drizzle over the cake, arrange the rose petals and the remaining raspberries on top and dust with icing sugar.
Tried this recipe?
Let us know how if you liked it in the comments below!
We are sorry that this post was not useful for you!
Let us improve this post!
Tell us how we can improve this post?