This Cappuccino Pavlova & Cherry Parfait recipe was devised out of necessity – with all the Pavlovas I make, there's bound to be the odd failure or two. So, when I made my usual Cappuccino Pavlova on a drizzly, humid day (duh!), it was hardly surprising that it went pear-shaped and a solution was needed pronto.
I put my thinking cap on and came up with the idea of layering the Pavlova with a Kahlua infused Mascarpone cream and Morello cherries. I'm happy to report that the dessert was deemed a great success and I've had instructions not to wait until my Pav fails before making it again!
I'd like to just add that you don't need to be too concerned about getting exactly the same quantities of ingredients. The amounts I used equated to how they were packaged – e.g. Morello cherries came in a 700g jar; Mascarpone came in 200g packets, the heavy cream came in a 500ml bottle. And I added in plenty of Kahlua because I like it. If your ingredients come in different volumes, I wouldn't worry about it – I've looked at plenty of Mascarpone Cream recipes and the quantities of cream versus Mascarpone vary greatly. This really is quite a flexible recipe, so go by taste and by the size of the dish you'll be serving it in. Hope you enjoy!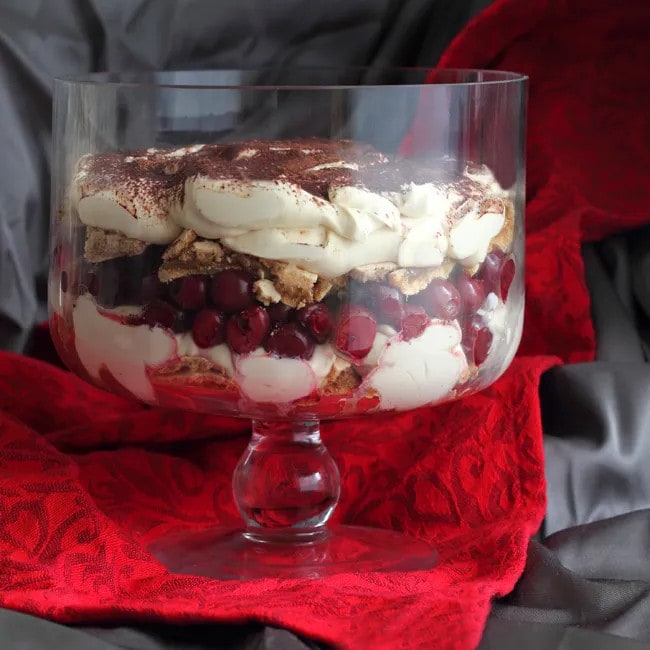 CAPPUCCINO PAVLOVA & CHERRY PARFAIT
Ingredients
1

Cappuccino Pavlova just the Pavlova component, not the topping

1 700

g

jar of Morello cherries in syrup

500

ml

heavy cream

200

g

Mascarpone

1

tsp

vanilla extract

4

Tbsp

Kahlua

3

Tbsp

icing sugar (confectioner's sugar)

Cocoa for dusting on top and/or grated dark chocolate
Instructions
Drain the Morello cherries over a bowl (I let mine sit for about 20 minutes) and discard the syrup.

Put the heavy cream, Mascarpone, vanilla extract, Kahlua and icing sugar in a large bowl and slowly at first, beat in an electric mixer. Once the ingredients are combined, turn up the speed and beat until the texture of lightly whipped cream (ensure you don't overwhip – it should be soft and luxurious). Refrigerate until needed.

Assembly: (I recommend that you don't assemble this dessert until about 1 hour before serving – you want the Pavlova to soften slightly but still retain a slight crunch). Cut the Pavlova roughly into 2-3 inch pieces. Line a trifle bowl with half the Pavlova pieces. Dollop half of the Mascarpone/cream mixture over top. Add all of the drained cherries on top.

Now layer the remaining half of the Pavlova on top of the cherries, followed by the remaining amount of Mascarpone/cream mixture. Using a sieve, dust over some cocoa powder over top (I like how the cocoa gets absorbed into the cream and becomes chocolatey, and then I dust over a little more fresh cocoa just before serving). You can also add grated dark chocolate if you like. Keep in a cool place (don't refrigerate or the Pavlova will go soggy) until ready to serve.
Tried this recipe?
Let us know how if you liked it in the comments below!
We are sorry that this post was not useful for you!
Let us improve this post!
Tell us how we can improve this post?